Veep to inaugurate Catholic School projects in Sunyani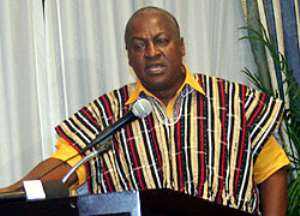 Sunyani, March 2, GNA – Vice President John Dramani Mahama has arrived in t Sunyani for the inauguration of two basic school projects undertaken by the Sunyani Diocese of the Catholic Church.
At the airport to welcome the Vice President and his entourage were Mr. Kwadwo Nyamekye Marfo, the Brong-Ahafo Regional Minister, members of the Regional Security Council and regional executives and functionaries of the National Democratic Congress.
The projects, Saint James and Saint Patrick cluster of Primary and Junior High Schools (JHS) located on the precincts of Christ the King Cathedral, were financed by Franciscan Friars, a Catholic Priestly Order in the Sunyani Diocese, at a cost of 1,363,638.42 Euros (GHC2, 069,425.66).
Construction started on November 23, 2006 and took four and a half years to complete.
The Very Rev Fr Martino Corrazin, a Franciscan and Parish Priest of the Sacred Heart Catholic Church in Sunyani, is the brain behind the projects.
A Catholic Church document said following an invitation by the late Catholic Bishop of Sunyani, Most Reverend James Kwadwo Owusu and Most Reverend Mathew Kwasi Gyamfi, the bishop of Sunyani, Rev Father Martino, Spanish, studied the feasibility of the projects in 2005 and went to Spain and Italy to look for sponsors.
Sponsors of the project are the government of Navara, the City Council of Pamplona, the Federation of the City Councils and Municipalities of Navara and Minos Unidas of Madrid, all in Spain, as well as Caritas Antoniana of Padua in Italy.
GNA