Kunbour dribbles PAC -over 94m Euros judgment debt awarded CP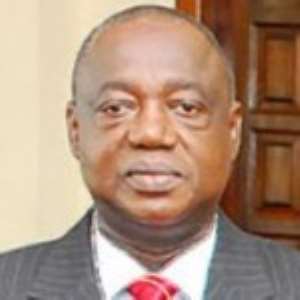 Attorney - General and Minister of Justice Dr. Benjamin Kunbuor
The Public Accounts Committee of Parliament (PAC) Wednesday,  had a hectic time dealing with the Attorney-General and Minister of Justice, Dr. Benjamin Kunbour when he appeared before the committee to assist it gain a better understanding of the transaction between the Republic of Ghana and CP Pioneer Constructions which has now become an albatross on the neck of the former.
The Republic of Ghana is currently battling with the payment of 94,000,000 Euros to the Liechtenstein based construction firm for wrongful abrogation of contracts in 2003.
With series of legal jargons during his over two and half hours submission, the PAC at certain times were at a lose in gaining a deeper understanding to the answers provided by the legal mogul.
This compelled the PAC led by its Chairman, Albert Kan-Dapaah to plead to the Attorney-General to speak in plain language to enable members on the panel gain a fair understanding of his (Dr. Kumbour) submissions.
'All that we are asking for is to help us understand the documents in the transaction between the Republic of Ghana and CP Construction Pioneers. But Hon. Minister, you don't help us by referring to legalities and talking about words that I did not study at Akyerensua Secondary School. Can we all come down to earth and just allow us to have some understanding of the contract documents. When we ask a question, the legalities are too much. We ask the State Attorney, the legalities are too much. We do not want anything beyond understanding what this is all about so that the ley man, as we are, we can meet and decide whether this is okay or not and make a report to Parliament,' Mr. Kan-Dapaah pleaded.
But Dr. Kumbour in a swift response to the plea of the former Minister of the Interior told the panel that since he was under oath to speak to the matter put forth before him, he had no choice but to carefully select his words when addressing the committee.
'I certainly concede that you have actually brought me here in a certain capacity and I can only give to you what I have. I cannot give you any other thing. If you have brought me here to ask legal questions and its relevance and as much as the Ministry of Justice is concerned, I can only give you law - I can't give you anything again. It is unfortunate if the law turns out to be problematic to this committee,' he intoned.
His answer was very difficult for the PAC to contain and pressed further to change his choice of words.
'If you start talking about legalities, it creates problems for members of the committee,' Mr. Kan-Dapaah argued but was interjected by Dr. Kumbour to side with him. 'Mr. Chairman, I am very sorry if I had not been of any help,' he noted.
Earlier, Dr. Kumbour confirmed to the committee that the Settlement Agreement before the panel was an authentic document regarding the said transaction between the Republic of Ghana and Construction CP Construction Pioneers, a document which the former Attorney-General and Minister of Justice, Mrs. Betty Mould-Iddrisu declined to certify when she appeared before the committee to respond to questions on the said matter. The said Settlement Agreement bore her signature and many wonder why she took that path.
Having confirmed the authenticity of the documents, Mr. Kan-Dapaah in his usual style tried to summarise the overall response of Dr. Kumbour's submission but to his dismay, the number one legal advisor to the president told the committee that his (Mr. Kan-Dapaah) comments were not a true reflection of his (Dr. Kumbour) statement to the panel.
'Mr. Chairman, your summary of proceedings so far does not reflect exactly what I have told this committee and I want to disclaim and take no responsibility for that summary and it is not a representative of what I have told this committee. But I can say that if this document is going to be of relevance to the Public Accounts Committee, it should be read together with a large volume of documents,' he intoned.
Mr. Kan-Dapaah throughout the deliberations kept referring to the Settlement Agreement as 'Agreements' without referring it to its proper name (Settlement Agreement).
But, Dr. Kumbour on three occasions objected to the Settlement Agreement being referred to as 'Agreements' and urged the Chairman of the PAC to stick to its authentic name.
In a sharp rebuttal, Mr. Kan-Dapaah told said there was nothing wrong in referring to the documents as 'Agreements'.
Reacting to why an amount of 14,000,000 Euros was paid even before the agreement was entered into, Dr. Kumbour said due to the liability incurred, it was prudent for the two parties to reach an agreement and pay sum amount of money which was subject to a formalized settlement.
'If you read the preamble to this agreement, it talks about a series of activities in terms of the beleaguered relationship between the Government of the Republic of Ghana and Construction Pioneers.
A number of circumstances in terms of crystalizing what became an obvious national liability was the point at which it was reached and agreed that this payment should be done subject to a formalized settlement.
If you go and see part of this settlement clause that is at page three paragraph two A, you will see clearly that the total sum that was due as the liability was around 94,000,000 Euros and that have been discounted by 14,000,000 Euros which was the result of payment in 2009.
My legal understanding of that payment is that that payment regardless of the nature of this transaction was incorporated and adopted in this Settlement Agreement,' noted Dr. Kumbour.
However, he told the committee that his submission was an opinion which was subject to different interpretation.