1 March 2012
|
Press Release
TechnoServe supports women in the Northern Region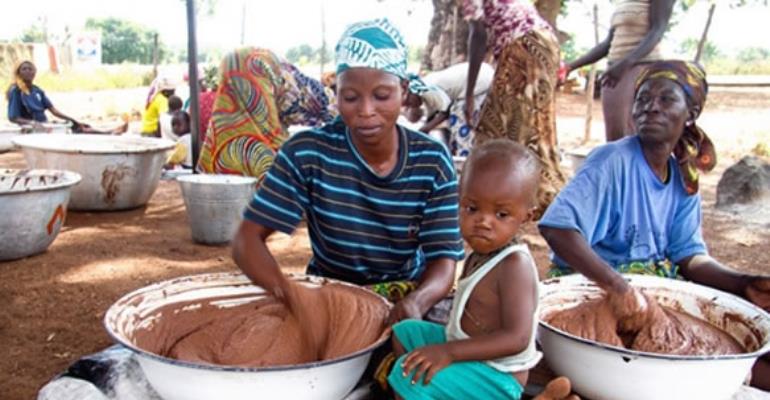 TechnoServe, an international Non-Governmental Organisation (NGO), has since 2009 supported 4,209 economically marginalised women in the Northern, Upper East and Upper West Regions of Ghana in the area of Shea processing. The NGO has delivered business development and technical training to organized groups of Shea nut collectors and processors, and has linked the processors to buyers in order to create new market opportunities.
As part of its objectives to increase productivity and reduce the drudgery involved in traditional processing of Shea nuts, TechnoServe has assisted 12 women groups in the Northern Region to secure Shea processing equipment and to establish processing centres. This has tripled the average volume processed by the affected groups (from one bag per month to three bags per month) and significantly reduced the distance travelled by the women to mill their Shea kernels.
The supports are enabling the women to double their revenues with significant increase in profit margins, hence laying a foundation for growth and sustainability. Hitherto, the women did not regard Shea processing as an income generating venture. According to Sanatu, a beneficiary of the programme, TechnoServe's support and training on business management had transformed her attitude towards Shea processing as she now sees it as a business, not a way of life. A remarkable socio-economic impact of the training programmes on the women and their families is gradually being realised. "We wished we had this training when we were younger. In fact, we would have been financially sound by now,'' declared Ananteem Group in Bolgatanga. The various women groups were also linked to exporters, including Savannah Fruits Company Limited, to ensure that they get ready market and better price offers for their butter, oil and other produce.
Prior to the supports from TechnoServe, women who were into Shea processing in the Northern part of Ghana were confronted with several challenges, including poor product quality, limited application of modern production tools and best practices, low productivity and product quality inconsistency, fragmented and limited access to market, poor record keeping skills, individualism and poor negotiation and pricing skills.
There is now a significant improvement in production efficiencies and record keeping capabilities of the women. "I now calculate my costs after every market session to enable me know how much I earned as profit before I start spending. Previously, I started spending before calculating my expenses, thus making it difficult for me to know my exact profit" Sanatu admitted. There is also an increase in adherence to processing quality standards and improvement in culture of savings among the beneficiaries. "I have opened a personal savings account at Bonzali Rural Bank at Savelugu, something I never thought was possible,'' said Zinabu.
TechnoServe was founded in 1968 by Connecticut businessman Ed Bullard to transform lives by providing poor people access to productivity-enhancing tools. The name 'TechnoServe' implies technology in the service of mankind.