Three confirmed dead in Abeka-Lapaz accident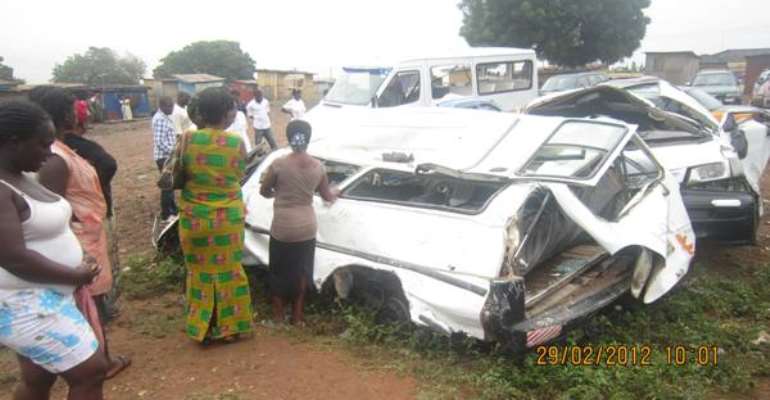 Accra, March 1, GNA – Three persons have been confirmed dead while two others received injuries in an accident involving four vehicles on Tuesday evening at Abeka – Lapaz in Accra.
The vehicles comprise an articulated Benz Cargo truck, a mini Hyundai passenger bus, a Benz bus and a Nissan taxi cab.
The dead are the driver of the Hyundai bus, Ofori Asimang, 36, and two of his passengers, Happy Agbogbo and another female yet to be identified.
Deputy Superintendent of Polic Ernest Acheampong of the Accra North Division of the Motor Traffic and Transport Unit (MTTU) told the Ghana News Agency (GNA) at Tesano that two of the victims, Raphael Dogbatse, 30, and Samuel Baah, who were also passengers on the Hyundai bus, are responding to treatment at the Police Hospital in Accra.
DSP Acheampong said that the driver of the taxi cab, Alexander Amanor, 36, foresaw the accident and, therefore, escaped before his car was trapped.
He said the bodies of the deceased had been deposited at the Police Hospital Mortuary in Accra.
DSP Acheampong said the accident occurred when the articulated truck, loaded with frozen fish heading towards Tema from Takoradi, overturned and landed on two of the vehicles.
According to the driver of the Cargo truck, Richard Naarh 35, a Benz bus wrongfully took a "U" turn into his lane and his attempts to avoid collision failed thus falling on the two vehicles which had also parked at the seams of the road to load passengers.
The driver of the Benz bus, who tried to abscond, was arrested and is in Police custody.
When the GNA arrived at the accident scene, the Police had mounted an operation to arrest all the drivers who took U-turn at the accident point.
Most of the arrested drivers felt they had been wrongfully arrested because there was no road sign.
DSP Acheampong said every driver who had gone through the approved route to become a qualified driver should or would know that the absence of such road signs means you should drive on without any turning.
Residents around the accident area, however, blamed the accident on the absence of traffic control officers when there had been a power outage.
GNA