Iran 'to accept payment in gold for oil'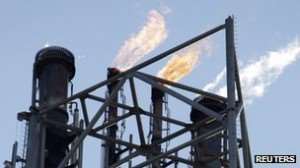 Iran has the world's third-largest oil reserves
Iran is to accept gold instead of dollars as payment for its oil, the country's state news agency has said.
The move comes as US and European Union sanctions against Iran have made it difficult for buyers to make dollar payments to Iranian banks.
Mahmoud Bahmani, the governor of Iran's central bank, is reported to have said that the country would accept payment in gold "without any reservation". As part of the sanctions, the EU has passed a ban on buying Iranian oil.
The EU's move will prohibit any company, in any member state, from buying oil from Iran after 1 July. At present, the EU accounts for 20% of Iran's exports.
However China, the biggest purchaser of Iranian oil, has said it will continue imports, as will India. The US already has a ban on Iranian oil in place.
Iran has the world's third-largest oil reserves. Crude oil is predominantly traded in US dollars, but Iran already accepts payment in other currencies.
Separately, Dubai's Noor Islamic Bank said on Wednesday that it had ended any dealings with Iranian financial institutions back in December, as a result of US sanctions against working with Iranian banks. BBC