Egyptian Hassan becomes most capped player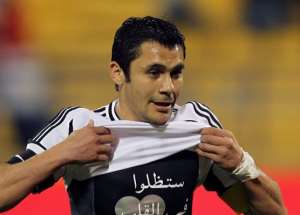 Egypt midfielder Ahmed Hassan, pictured on February 27, became the most capped footballer in the world Wednesday. By Karim Jaafar (AFP/File)
JOHANNESBURG (AFP) - Egypt midfielder Ahmed Hassan became the most capped footballer in the world Wednesday by coming on as a second-half substitute in a 1-0 friendly victory over Niger.
The 36-year-old was introduced by coach Bob Bradley with 14 minutes left in Qatar capital Doha to win his 179th cap and overtake retired Saudi Arabia goalkeeper Mohammed Al Deayea.
Hassan thought he had reached the magical mark in a 5-0 rout of Kenya two days ago, but the east Africans sent an under-23 squad so the match was not an official international.
His joy at reaching the milestone was tinged with sadness as he admitted to still being traumatised by the deaths of 74 football fans after a league match in Port Said this month.
It was the biggest Egyptian sporting tragedy and several national team stars, including Mohammed Abou Treika, Mohamed Barakat and Emad Moteab, reacted by announcing their retirements.
"Of course I am happy with the achievement, but my happiness is not complete. I am still saddened by the death of Al Ahly fans in the Port Said disaster," Hassan said on his website.
"I have waited for this achievement for so long, but I hoped to get it in better circumstances," added the model professional whose club career spanned several in Egypt and Turkey plus Belgian outfit Anderlecht.
Hassan, who replaced Sunderland midfielder Ahmed Al Mohamady and squandered a chance to score a second goal for the Pharaohs late in the game, said he had no intention of hanging up his boots.
"My career with Egypt is not over yet. Some people said I carried on playing with the national team to reach a personal achievement, but this is completely untrue."
Former United States coach Bradley, appointed late last year to succeed three-time Africa Cup of Nations winner Hassan Shehata, lavished praise on the record breaker.
"Ahmed Hassan has been a winner in his career, a footballer who leads by example and plays with energy and commitment," he told a post-match Doha media conference.
"The record is something every Egyptian must be proud of and has been earned after a great career. He has been such an important member of the national team for so many years."
Egypt, whose Cup of Nations qualifier with the Central African Republic scheduled for Wednesday was postponed until June because of the security situation, are scheduled to play Lebanon on March 5 in Beirut.