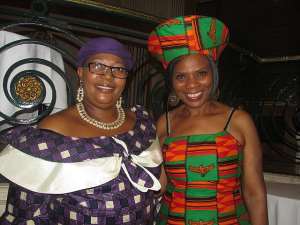 Justina Mutale with the Deputy Prime Minister of Zimbabwe, The Rt Hon. Thokhozani Khupe
Justina Mutale, founder of POSITIVE RUNWAY: Global Catwalk to Stop the Spread has won the 'African Woman of the Year' Award in the prestigious African Achievers' Awards held in London on Wednesday 22 February 2012, at Kings College.
And Justina Mutale's worldwide voluntary organization, POSITIVE RUNWAY, which raises awareness against the spread of HIV and AIDS, received the 'Service to the Community' Award at the same ceremony.
Justina joins a host of prominent African dignitaries, including Archbishop Desmond Tutu, who was the first recipient of the African Achievers Award in recognition for his fight for Human Rights, Justice and Peace.
Justina was the only nominee who received two Awards among other eminent recipients of various categories of the African Achievement Awards, who included distinguished African leaders and renowned humanitarians that have devoted their lives to the development of Africa such the Hon Joyce Banda, Vice President of Malawi, who is top-ranked on Forbes' most powerful women; the Hon Thokhozani Khupe, Deputy Prime Minister of Zimbabwe, who is also the President of the Global Power Women Network Africa and Zimbabwe's Goodwill Ambassador on the Campaign for the Accelerated Reduction of Maternal Mortality in Africa (CARMMA). His Excellence Babatunde Raji Fashiola (SAN), the Lagos State Governor, who is acclaimed both nationally and internationally, as one of the bright hopes for the future of Nigeria; one of the very progressive Governors determined to reclaim Nigeria's past glories through competent and transparent leadership.

The Awards attracted high profile guests from Africa, the USA, Europe and all over the UK. Celebrities from the media and entertainment industries were also in attendance
The event, held under the theme: 'Leadership and Africa Rising' is a celebration of African leadership, business, development, culture and the arts.