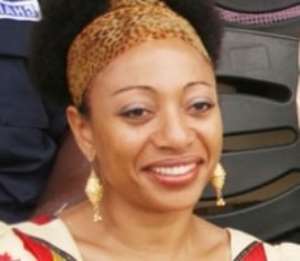 Samia Nkrumah
A fresh row has engulfed the Convention People's Party (CPP) as the departing national women's organiser, Mary Ankomah Boateng, accuses Samia Nkrumah and Ivor Greenstreet of selling the party to another party for a pittance.
Mary Ankomah Boateng made the accusation in her resignation letter.
Samia and Ivor Greenstreet, chairman and general secretary respectively, she alleged, were sponsored by other political parties to contest the positions they won and frustrate them from achieving their political objective.
She has since joined Dr. Paa Kwesi Nduom's Progressive People's Party (PPP) with a taunt, "the sun is shining," which refers to the logo of the PPP.
"Today, I announce my resignation as national women's organiser of the Convention People's Party (CPP)," she stated in her resignation letter in which she attributed her decision to several factors.
"My decision to quit has been informed by several developments within the party since I took office as national women's organiser after our historic congress of September 2011," she noted.
According to Mary, Ghana's first President's daughter, Samia Nkrumah and her cohort had triggered an implosion in the party.
"To our utter surprise and indignation, however, the newly elected Chairman, Samia Nkrumah and her group of retrogressive, political neophytes, triggered a tragic implosion that has killed the CPP," she said.
She explained that there was some form of connivance in the party intended to serve the interests of the sponsoring parties to the disadvantage of the CPP.
"The deal with the sponsors was to ensure that the CPP did not field a presidential candidate this year and in return have Samia partner their presidential candidate in the 2016 general elections," she said, pointing out that "The deal, sounded irresistible to Samia, who went all out to get Dr. Papa Kwesi Nduom and other progressives out of the party. Today, some 86 percent of former CPP members have left or are about to leave the CPP to join their progressive colleagues, who left earlier to form the Progressive People's Party PPP."
As a former Member of Parliament, she stated that she was cognizant of what it took to win on the ticket of a third party like the CPP, adding, "There is incontrovertible evidence that the current CPP chaired by Samia, exists not to win election to govern this country."
Its reason for existence, she said, was to support other parties in return for petty cash and handouts, explaining, "So, while some of us have focused on working hard as an independent party, to present the alternative Ghanaians have been looking for, Samia and her friends have decided to sell the party to the NDC and NPP."
Samia, according to her, was on an emotional and "sight-seeing" ego trip motivated by "greed, hypocrisy and a suddenly-cultivated love for adulation. This is a lady who calls for unity at every opportunity but her actions divide our ranks."
Mary added that Samia called for accountability, transparency and inclusiveness, yet she and the general secretary continued to make shadowy moves, taking decisions on their behalf without any reference to the party leadership.
"As I speak, Samia and Greenstreet are the organizers, treasurers and everything in the party. If this is what she calls transparency, honesty and unity, then, I do not wish to be part of it," she stressed.
She described the attitude of Samia as disrespectful which, for her, was at odds with Ghanaian culture and values.
"Every time we meet as leadership, she reminds the meeting 100 times over that she is the chairman and must be obeyed. Obeyed?" she asked rhetorically.
Samia, in total disregard for procedures, Mary stated, sought to impose persons for consideration as chairmen of sub-committees of the central committee on them, adding that those were the people Samia said she wanted to work with.
"I have come to the firm conclusion that CPP, led by Samia, is not the place for a progressive like me. I therefore quit effective today, Tuesday, February 28, 2012 to join the Progressive People's Party (PPP)."