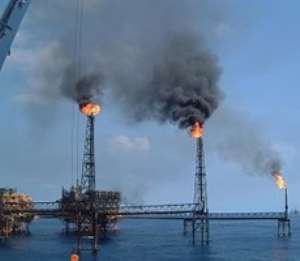 Ghana is likely to see larger domestic and external deficits in 2012 on account of election-spending risks and swelling outflows from the income and service accounts, Renaissance Capital has forecast.
The investment bank said it expects the budget deficit to widen to 5.1% of GDP this year -- against the authorities' expectations of 4.8% of GDP -- with the current account gap rising to 8.7% of GDP from 8.5% in 2011.
Ghana's deficits have tended to widen significantly beyond targets in previous election years, a record Renaissance reckoned will play against the government's projections in 2012.
"We think the budget will come under pressure in 2012, given that this is an election year and the government is planning to step-up capital spending to 8.2% from 7.6% of GDP in 2011," it said in its latest outlook on the economy.
In the past, hikes in the deficit have been accompanied by stronger-than-projected government borrowing and monetary growth, which then triggered wild inflation and cedi depreciation. In the last decade, two of the country's three-largest fiscal deficits were recorded in election years (2000 and 2008).
The current account deficit, which widened to 8.5% of GDP last year, is seen climbing further to 8.7% of GDP according to Renaissance, despite a forecast for oil-export growth and strong commodity prices.
In 2011, services and income payments plus a spike in consumption-goods imports offset trade-deficit improvements from new oil exports that came on stream, leading to the current account deficit widening to US$3.1billion.
Bank of Ghana Governor Kwesi Amissah-Arthur has said he is worried about growing consumption imports that have pressure on the cedi and the Central Bank's reserve buffers. The bank recently supported the cedi with US$800million in reserves after sharp falls against the US dollar.
"We're beginning to see an increasingly import-dependent economy. If the goods are meant for manufacturing, which will fuel future growth, then that is good; but we need to curb our demand for consumption imports," Amissah-Arthur said.
Fast-paced economic growth, which notched up 13.6 percent last year, and rising spending by consumers in Ghana's new middle-income economy seem to have accounted for the surge in goods imported for direct consumption.
Worries about the cedi and inflation led the bank to tighten policy earlier this month, a move that turned out to comfort offshore investors who were beginning to lose confidence in the value of the local currency.
Last week, offshore investors presented more than half of the bids at an auction of three-year bonds by the Central Bank, the first since October 2011. The bonds, which attracted a yield of 14.99%, were oversubscribed by 191%.
But tighter monetary policy is likely to temper credit growth at a time when the cost of capital is already too expensive for businesses, the Association of Ghana Industries (AGI) has said.
The AGI is noted for its concern about the slump in manufacturing, which has been the dark side of an economy growing at record speed.
While economic growth is expected to normalise this year to between 8 and 9.5%, according to various estimates, there is upside potential in the fact that oil production has not yet peaked (at the 120,000 barrels per day anticipated), Renaissance said.
Excluding oil, growth is largely expected to be driven by construction activity, business services and the transportation and storage sectors. In 2012, the government has forecast real non-oil GDP growth of 7.6%.