My name will give you access into my country – Myles Monroe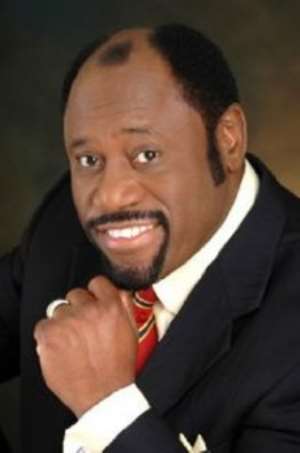 Dr. Myles Monroe
World acclaimed Bahamian multi-millionaire pastor, leader, motivational speaker, consultant, businessman, diplomat and statesman, Dr. Myles Monroe said his impact in the Bahamas is such that the mention of his name is enough to give anyone access into his country.
He was speaking to Journalists in Accra during a press conference to herald his five-day visit to Ghana to hold business leadership seminars for present and aspiring business leaders in Ghana, and also meet with top politicians, including President John Evans Ata Mills. Entrepreneur
The visit was at the invitation of renowned Ghanaian international pastor, leader, consultant, diplomat, statements, and businessman Dr. Kingsley Fletcher, and it is being facilitated by Sparrow International.
It was designed to tap into the expertise, years of experience and deep knowledge of Dr. Myles Monroe on business, Christian, community, international and political leadership devoid of corruption, and characterised by integrity, and how that could drive economic development in Ghana.
Adom News sought to know what his impact in his own country has been, which gave him the impetus to seek to impact Ghana with his ideas.
He answered to a spontaneous round of applauds saying "my impact in the Bahamas can be measured by when your land in our country at the airport and you call my name they will let you in."
Dr. Monroe said on the recommendation of the Bahamian government, he had received an OBE Award from the Queen of England, which was the highest honour bestowed on a Bahamian citizen by the Queen, and he had also received the highest honour, called the Silver Jubilee Award from the Bahamian government itself.
"I was the youngest recipient of both awards in the history of the Bahamas," he said.
Dr. Monroe is the Founder and Chairman of the International Third World Leaders Association (ITWLA).
He said he and his team have built a global organisation that attracts 70 to 80 organisations from around the world every year into the Bahamas to participate in their projects, adding that they also have a leadership training institute where local political leaders are trained, and some of them are in Parliament, the Senate and even leaders of political parties.
"We also have conferences that have been so successful the government has identified them as one of the biggest revenue earners for tourism in the Bahamas – we have received commendation from our government because we attract so much foreign currency to the country through our organisation," he said.
He said he did not believe in passing on a principle to his neighbour until it had worked for him, adding "I did not come here to teach you things I learnt from a book but things I have experienced and developed and be successful in – and the Bahamas is my prototype."
Dr. Monroe said his organisation has been around for 33 years and all the principles he has developed have worked and continue to work for them in the Bahamas, and he believes they will work in Ghana also.
He said politicians in his country have tried to get him involved in local politics, but he always told them the world was his stage and that was why he chose to build his nation, Bahamas by building the people who build the nation – leaders.
"According to the UN the Bahamas is the most successful black nation in the world – we have only 350,000 people but we attract about five million tourists every year to the Bahamas," he said.
He said the success was in spite of the fact that the British left them thinking they were going to fail, but they drew their values from what God told them and not what the British said to them.
"Our people's attitude is that nothing is impossible to us and I sense that same spirit here in Ghana – I hope Ghana will rise up and take its place as a driving economic force in Africa because it is in you and you need to work it out and live in it," he said.


Story by Samuel Nii Narku Dowuona/Adom News/Ghana