NPP rubbishes NDC missing files claim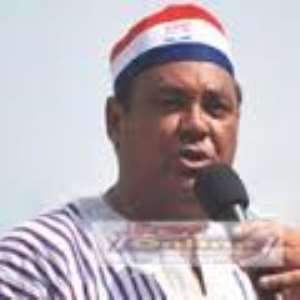 Jake Obetsebi Lemptey, NPP National Chairman
Samuel Okudzeto Ablakwa
Alfred Abesi woyome
The Director of Communications of the opposition New Patriotic Party (NPP), Nana Akomea, has rubbished claims that past government officials in the Kufuor Administration shredded official documents in relation to the GH¢52 million judgement debt paid to businessman Alfred Woyome.
He stated that the claim was another attempt by the Mills led administration to cover up the Woyome saga.
During a radio discussion on the Woyome scandal last Saturday, February 25, 2012, the Deputy Minister of Information, Samuel Okudzeto Ablakwa, claimed the National Democratic Congress (NDC) government's actions have been constrained by the unavailability of official documents.  He blamed officials of the former government for taking away those documents.
But, in reaction, Nana Akomea said this latest assertion by Okudzeto Ablakwa was another twist in the great cover up the government was attempting over the Woyome scandal.
He explained that official correspondence in the Ministries, Department and Agencies (MDAs) are always archived at their respective registries, and officials, including political office holders, cannot normally remove archived documents.
'Furthermore, correspondence is normally from one MDA to another, so there are usually several copies of such documents.'
He explained further that at the transition team's work in the first quarter of 2009, the team met with political office holders and chief directors, and documents were made available for the team's work.
He thus could not phantom that more than three years later, the nation was being told about some missing documents hampering its work.
He was, however, convinced that 'this latest assertion is clearly another diversionary attempt in the big plot to cover up, as asserted by no less a person than Martin Amidu, then Minister for Justice and Attorney General.'
He was empathic on the fact that when it comes to issues 'on concealment and withholding of documents, the gargantuan examples are in the NDC government over the Woyome scandal.'
He also questioned why the government went ahead to pay Alfred Woyome, if it claimed that it did not have the necessary documents.
'Indeed, the document cited by government as support for their payment to Mr. Woyome is a one page letter of introduction written on the 4 th May 2005, by Mr. Kwaku Agyeman-Manu, then Deputy Minister of Finance.
'It is the same letter that is cited as government's defence that Mr. Woyome had no contract with government to warrant the gargantuan payments. So government surely, had the documents it needed,' he argued further.