South Sudan rebels sign truce deal with govt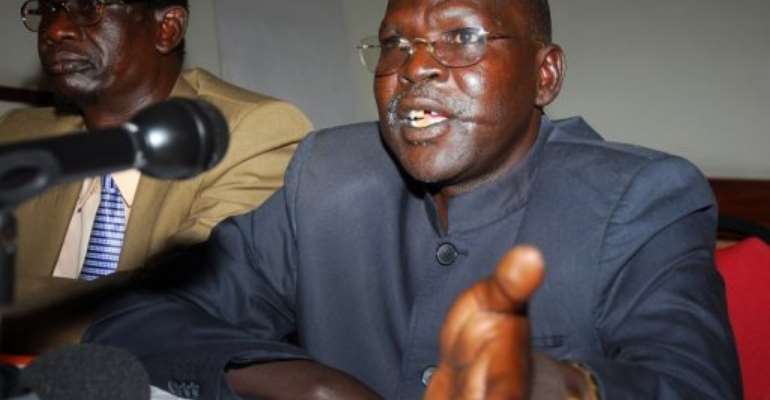 JUBA (AFP) - South Sudan has signed a ceasefire with the largest of several rebel groups which threaten the stability of the world's newest nation, the government said on Tuesday.
The deal to integrate an estimated 1,800 guerrilla fighters into the South's army comes after rebel chief and renegade general George Athor was killed by government forces in December.
"The Republic of South Sudan has signed an agreement with the former rebels of George Athor, in which they have agreed to the amnesty laid down by President Salva Kiir," Information Minister Barnaba Marial Benjamin told AFP.
The pact was signed on Monday in Pigi county, a rebel base in the troubled eastern state of Jonglei.
"They immediately declared a ceasefire after the signing," Benjamin added.
Rebel spokesman James Nuot said their forces would integrate into the South's army after leaders were promised senior positions in the government and military, without giving further details.
"We reached agreement because we decided to reconcile with the government, and because the government accepted what we need from them," Nuot told AFP.
South Sudan had accused Athor of acting on behalf of Sudan in a bid to destabilise the country, which won independence in July after the end of a two-decade civil war with Khartoum.
Despite a peaceful split, both nations accuse each other of funding proxy rebel groups across their borders. South Sudan has long claimed that the north backed Athor, a charge he denied.
"This is the biggest of South Sudan's rebel groups, and they will not be used by Khartoum any longer to destabilize South Sudan," Benjamin said.
Athor rebelled in April 2010 after claiming that electoral fraud cheated him out of the governor's post in Jonglei.
"Our forces were not funded by Khartoum -- we get our own things differently," Nuot said, without elaborating.
Kiir's amnesty has encouraged several groups to end their rebellions but Athor's militia -- the South Sudan Democratic Movement/Army (SSDM/A) -- had long been the grand prize for South Sudan.
Instability is a major stumbling block for the new nation, and the guerrilla army turned government is unable to give estimates on how many rebel groups it is battling.
Benjamin said that negotiations with the rebels started before Athor was shot dead in a clash with a border patrol, after allegedly going on a recruitment drive in Central Equatoria state.