Fire Destroys Spare Parts At Suame Magazine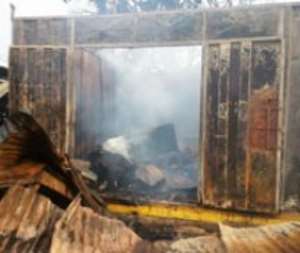 One of the burnt container shops with its smothering content
Spare parts worth several thousands of Ghana Cedis were totally burnt when six container full of spare parts belonging to the Zone 10 members of Suame Magazine in Kumasi caught fire late on Wednesday.
The early response by the Ghana National Fire Service prevented the fire from spreading to other areas to destroy more spare parts.
It took firemen about two hours before they succeeded in bringing the ravaging fire under control.
No deaths were recorded but victims, most of whom have lost every thing to the fire, are devastated.They expressed shock about the incident.
Some told the Graphic that they needed government support to enable them get back to business.
They also appealed to the Ashanti Regional Co-ordinating Council and the Kumasi Metropolitan Assembly to support them financially to enable them start business again .
Briefing the Graphic about the incident, the Komfo Anokye Teaching Hospital (KATH) Fire Station District Commander, Divisional Officer Agyei Fofie, said he received a distress call about the fire outbreak around 9.15 pm Wednesday.
He said notwithstanding their prompt response, on reaching the place, they saw that the fire was spreading quickly and that it was the professionalism displayed that brought the situation under control.
He said initial investigation had revealed that the outbreak started from a one of the shops .
Explaining, he said, a pile of refuse was set on fire near the shop, which later spread to the shop, causing the containers around it to also catch fire,
He advised spare parts sellers in the area and the general public to stop burning items close to structures, especially in the evenings