Libya tribe offers olive branch to Misrata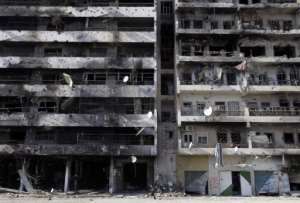 Tensions between the people of Tawarga and Misrata are widely viewed as a major obstacle to stability in Libya. By Joseph Eid (AFP/File)
BENGHAZI, Libya (AFP) - Libya's Tawarga tribe apologised to Misrata's people for damage caused in the coastal city during last year's war, according to a statement received by AFP on Friday.
"We the Tawarga tribes of Libya apologise to our brothers in Misrata for any action committed by any resident of Tawarga," tribal elders said in a joint statement issued after a meeting in the eastern city of Bengazhi late Thursday.
Tensions between the people of Tawarga and Misrata, who fought on opposite sides of the nine-month conflict that toppled the regime of Moamer Kadhafi, are widely viewed as a major obstacle to stability in Libya.
"We affirm that their honour is our honour, their blood our blood, and their fortune our fortune," the statement added.
The elders urged all of those accused of committing crimes, regardless of their tribal affiliation, to present themselves to judicial authorities to receive "punishment."
More than 1,000 people attended the meeting, including senior officials of the ruling National Transitional Council, tribal elders, and displaced people from Tawarga now living in Benghazi.
Absent from the gathering were representatives of Misrata, where officials accuse the Tawarga of playing a central role in a brutal siege by Kadhafi's regime against the port city.
"We extend our hands and our hearts in the interest of all of Libya and building together a prosperous future and brighter tomorrow," it read.
A senior official representing NTC chairman Mustafa Abdel Jalil at the meeting welcomed the gesture.
"The National Transitional Council welcomes these steps that will heal the rift between the disputing brothers," said Mohammed al-Mufti, who heads an advisory committee.
"The national reconciliation between the Tawarga and the people of Misrata concerns all Libyans and has their support," he said, adding it was a requirement for stability.
Tensions have been running high between people from Tawarga and militia-rich Misrata since October, when Kadhafi was killed in his hometown of Sirte.
Many fear the animosity between the two could spark more fighting.
Human Rights Watch said Tuesday that authorities in Misrata are barring thousands of displaced people, accused of being Kadhafi backers during the war, from returning home. It estimates 30,000 Tawargans were violently displaced.
Sheikh Bakr al-Mahdi, who heads a committee for national reconciliation, urged the people of Misrata to accept the olive branch on offer.
"The committee asks God for Misrata and its wise rulers to accept this great honour by agreeing to peace and tolerance," he said.
He added the National Transitional Council had a responsibility to "speed up the judicial process so that perpetrators of violence are punished and people calm down and the fires of sedition are put out."