President Appoints NDC Strongman As Presidential Adviser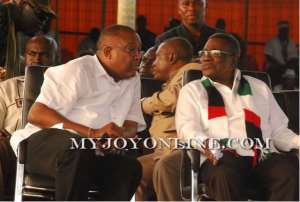 The President, Professor JEA Mills has appointed Ghana's envoy to the Czech
Republic, Ambassador Victor Emmanuel Smith as a Presidential Advisor for Special Duties with immediate effect.
Ambassador Smith has recently been in the news as gunning for the Abuakwa-North Parliamentary seat in the December 7 elections. He has been widely tipped to become the next MP for that constituency by many opinion leaders in the constituency and elsewhere.
Political analysts see this latest appointment by the President as a strategic appointment both for the government and the NDC considering the role Victor Smith has played and continue to do for the NDC , particularly during the period leading to the 2008 elections. Ambassador Smith is perceived by many politicians and analysts as a very courageous individual, a man of conviction and affable who relates well with all manner of persons and in particular, NDC foot soldiers.
In the wake of the on-going Woyome brouhaha, some analysts see him as an excellent player to bring in at this time. Because of the brilliant role he played in shielding President Rawlings from the attacks of the NPP during the Kufuor era.