Court charges trader for duping a teacher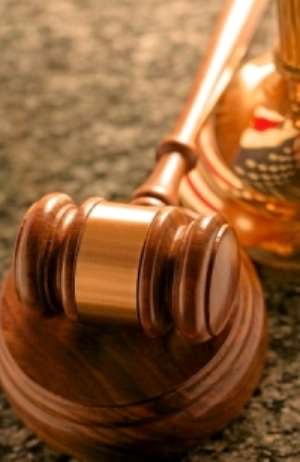 Accra, Feb. 23, GNA – A trader who conspired with three others now at large, to dupe a teacher in Tamale of GH¢14,000 under the pretext of supplying him seeds for medical purposes on Thursday appeared before an Accra Circuit Court.
Joseph Addo, pleaded not guilty to two counts of conspiracy to commit crime and defrauding by false pretences, and was remanded into prison custody to re-appear on March 8.
The prosecutor, Police Chief Inspector Charles Chester told the court presided over Ms Audrey Kokuvi Tay that in November 2011 the complainant, Abdul Rahaman Mohammed, a teacher in Tamale was contacted by a lady through the internet who introduced herself as a nurse in the United Kingdom.
He said the lady told the complainant that a doctor needed some seeds for medical purpose, and want an agent in Ghana who could assist him and collected the complainant's mobile phone number.
Chief Inspector Chester said later one Nana Osei called the complainant in Ghana claiming to be the agent for the lady and requested him to supply him sample of the seed.
He said the lady gave the supplier's mobile numbers to the complainant who introduced himself as Mr Boateng.
The prosecutor said Mr Boateng then directed the complainant to Kaneshie market where he could buy the sample of the seed for GH¢150 and could sell the sample to the agent for GHC230.
Chief Inspector Chester said since the complainant was in Tamale, he directed Bilali Yakubu, a witness and brother in Accra to the Kaneshie market to buy the seeds from the second witness Abdul Narsre Kassim.
He said the accused also directed Yakubu to Nana Osei now at large, the agent who bought the sample of the seeds at GH¢230.
Later Nana Osei called the complainant and told him that the sample was good and should get him about 100 sachets.
Chief Inspector Chester said the suppliers then directed the complainant to Nkawkaw and bought 100 sachets of the seeds at the cost of GH¢14,000.
He said on reaching Accra the complainant called the agent Nana Osei but his phone was switched off as well as the supplier Mr Boateng.
The prosecutor said the complainant then realised that he had been defrauded and reported the case to the Ministries Police station.
Chief Inspector Chester said during investigation, the witness Yakubu led the Police to the second witness Kassim where he bought the sample seed.
He said Kassim told the Police that it was the accused, who brought the seeds to him, and had so far supplied him with three sachets of the product and directed people to buy it at GH¢150 each.
Investigations led to the arrest of the accused at his hideout in Winneba.
GNA