UN hopes to access Sudan war zone with AU, Arabs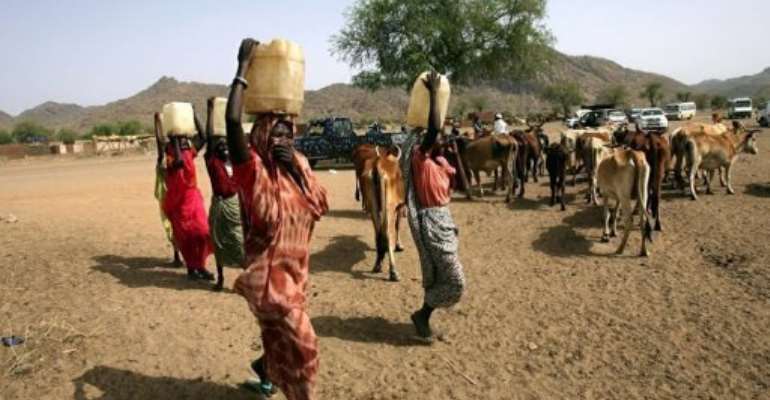 KHARTOUM (AFP) - A joint proposal by the UN, Arab League and African Union is the best hope for bringing aid to war-torn areas of Sudan where the situation threatens to rapidly deteriorate, a UN official said on Thursday.
More than 360,000 people have been internally displaced or severely affected by the fighting that began last June in South Kordofan state and later in Blue Nile, the United Nations says.
With Sudan severely restricting the work of foreign relief agencies in the war zone, international concern is mounting over malnutrition and food shortages in the area.
The White House warned this month that if humanitarian access were not granted by March, conditions would be one step away from a full-scale famine.
Mark Cutts, who heads the UN's Office for the Coordination of Humanitarian Affairs (OCHA) in Sudan, told AFP that the UN, AU and Arab League submitted their proposal two weeks ago to Khartoum.
"We are waiting for a positive response from the government so that we can be able to deliver the aid," he said.
The plan calls for the three organisations to assess the needs and humanitarian situation throughout the conflict area, and then to deliver assistance to the needy, "whether they be in government areas or SPLM areas."
Most government aid has gone to government-held zones, Cutts said.
Asked if the UN-AU-Arab League plan is the best hope for gaining full access to the conflict-hit region, he said: "I think it is at the moment."
Ethnic minority insurgents from the Sudan People's Liberation Movement-North, who fought alongside the former rebels now ruling South Sudan, are battling government troops in South Kordofan and Blue Nile.
South Sudan became independent in July after an overwhelming vote that followed more than two decades of civil war.
"We believe that unless we're able to mount a humanitarian operation that has the consent of all sides, the situation there is going to deteriorate very rapidly," Cutts said.
Sudan's Social Welfare Minister Amira al-Fadel Mohammed told a news conference that a committee is reviewing the UN-AU-Arab League proposal before the government makes a decision.
It has cited security reasons in restricting the aid work of foreigners.
Sudan's UN ambassador also accused aid workers of using UN flights to deliver arms and ammunition to the rebels -- a claim for which the UN's top humanitarian official said there was "no evidence."