Graphic, Police, To Ensure Incident Free General Elections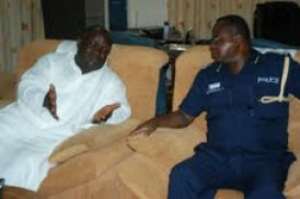 Mr Kenneth Ashigbey - MD of GCGL (Left), in a discussion with Western Regional Police Commander, Ransford Moses Ninson
Graphic Communications Group Limited is set to partner the Ghana Police Service and other agencies to ensure incident free elections this year through its publications.
The company will ensure that valued information that would be of public interest to help consolidate the country's democracy would be published for the information of the general public.
Speaking during a curtsey call on the Western Regional Police Commander and his officers and men in Sekondi, the Chief Executive of the Graphic Communications Group, Mr Kenneth Ashigbey said the role of the police was very central to the peace of the country.
He said the company was aware of enormous task ahead of the service and sister security agencies in the coming election and that head office and its team across the country would support in whichever way it could to consolidate the peace through balance coverage.
Mr Ashigbey said the company was very much aware that, a well informed society was central to democracy, therefore, the company would use its newspapers to publicize information that the police would make available to it to the public.
He said there is a long relationship between the company and Ghana Police Service which should be protected.
"We have had support from your outfit especially in this region which has reflected in our publications with always police angle to all our stories," he said.
Mr Ashigbey expressed the hope that as always, the police would once again let their professionalism reflect before, during and after the 2012 general elections to ensure that December 7, 2012 passed without any incident.
For his part, the Western Regional Police Commander, Mr Ransford Moses Ninson, commended GCGL for its circumspection and commitment to ensuring the development of the country through its publications.
He said the police service was very much aware of its central role to internal security and the task ahead of it in the December elections and called for more collaboration between the media and the police to ensure that facts are cross checked.
"I must say that since I took over this command, the media in the region especially the Graphic has been very helpful as they always consult my outfit to clear issues before going public," he said.
The regional commander said the command would collaborate with the media and it doors were open to ensure that issues were thoroughly cross checked before going public.
He said there were some instances that some facts were misrepresented by the media but those had been worked at saying: "We have to work together to ensure that information from the police is made available to the public to keep them informed."