Indonesian police storm jail as inmates riot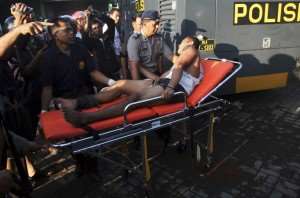 Some prisoners were injured after a riot broke out
Indonesian security forces have stormed a prison on the resort island of Bali following a riot by inmates that caused authorities to lose control of the facility for several hours.
Hundreds of armed police and army personnel moved into Kerobokan prison early on Wednesday, witnesses said. Shots were heard, and officials said several people had been injured.
Rioting broke out in Kerobokan late on Tuesday, forcing guards to flee as prisoners set fire to parts of the jail.
Officials said they intervened after attempts to negotiate with the rioting prisoners failed, and after some inmates managed to get hold of firearms.
"They were forced to open fire and three people were injured in the legs and taken to hospital," Bali deputy police chief Ketut Untung Yoga Ana said. Another police official said later that an officer was also injured.
Twelve Australian prisoners at Kerobokan, including two on death row and six serving life sentences, were safe, Australia's foreign ministry said.
"The wing where the Australians are held is far from the place where we had the trouble. The Australians were not involved in any way," said a police spokesman.
Fighting at the jail, where an estimated 1,200 inmates are being held, broke out late on Tuesday when inmates attacked a guard post, police said.
Up to 1,000 armed security forces backed by armoured vehicles and water cannon were stationed outside the jail, which is in a suburban area of Bali seven kilometres from the tourism hub of Kuta beach.
Police and local reports said the trouble began when one inmate stabbed another prisoner on Sunday, touching off reprisals that erupted into a full-blown riot.
Prisoners began trashing cells and throwing stones at the guards who were forced to abandon the jail, built for just 300 inmates but now housing more than three times that many prisoners, both male and female. Aljazeera