I did not cause financial loss to the State - Amoah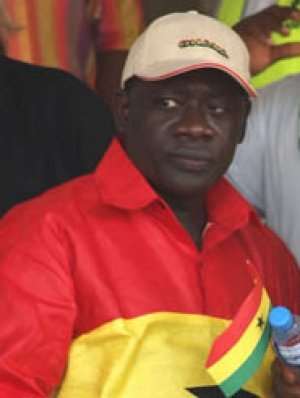 Accra, Feb.22, GNA - Mr Osei Bonsu Amoah, New Patriotic Party (NPP) Member of Parliament for Aburi-Nsawam, on Tuesday said he had not caused any financial loss to the State.
Addressing a press conference organised by the Minority in Parliament, Mr Amoah said as Deputy Minister of Education, he worked under four Ministers of State and therefore, never took any decision by himself.
The press conference was in reaction to the arrest of Mr Amoah in regard to the controversial payment of the GH¢ 51 Million judgement debt to Mr Alfred Agbesi Woyome, a businessman.
He pointed out that he had never hidden the fact that he knew Mr Woyome, but it was Mr Woyome who approached him during his tenure in office about the purchase of 20 plots of land at Kitasi near Aburi but the chief said he would not deal with any other person than himself (Amoah).
Mr Amoah said: "Paying money for any stretch of land for a project, I do not think that I am corrupt. The chief is alive and the records are there for anyone to refer."
Mr Osei Kyei Mensah Bonsu, Minority Leader, said if Mr Amoah had not been released on Monday, things would certainly had been different on Tuesday.
He said the NPP Parliamentarians did not see any credible reason for the arrest, which was baseless and fruitless enterprise the Police were embarking on.
Mr Mensah Bonsu said President John Evans Atta Mills was "on record to have said that he is not irresponsible or criminally-minded to order the payment of such huge sums of jugdement debt to Mr Woyome. The Economic and Organised Crime Office report has indicated that President Mills tried unsuccessfully on two occasions to stop payments to Mr Woyome".
"Now it is established that the former Attorney-General and Minister of Justice, Mrs Betty Mould-Iddrisu, is the person who authorised the payment and in fact supervised by the Finance Minister, Dr Kwabena Duffuor.
"By the account Mrs Mould-Iddrisu is irresponsible and criminally-minded for authorising the payment to Mr Woyome. Thus in the circumstance why will the Police not go for Mrs Betty Mould-Iddrissu," he alleged.
Mr Mensah Bonsu noted that there was only one truth in the whole saga, the State had no contract with Mr Woyome but he succeeded in claiming monies that he was not entiled to.
The Minority, he noted, therefore questioned the modus of the arrest of a colleague Member of Parliament and the capricious use of power.
He said they would co-operate with the law enforcement agencies to expose evils in the society in order that Ghanaians would not lose hope in democratic governance.
Mr Mensah Bonsu said the authority of the Speaker of Parliament was being challenged by the Police for not informing her of the arrest of a Parliamentarian.
Mr Amoah was arrested on Sunday night, February 19, in front of his house at Parakuo Estate near Dome by some armed policemen in three vehicles after a business meeting of a Parliamentary group.
Meanwhile, on the floor of the House, a motion to express appreciation to President Mills for the address on the State of the Nation delivered to Parliament on Thursday, February 16, was moved by Alhaji Muntaka Mohammed-Mubarak, NDC Member of Parliament for Asawase and Seconded by Professor George Yaw Gyan-Baffuor, NPP Member of Parliament for Wenchi to commence debate on the address.
GNA