London 2012 Olympics medals revealed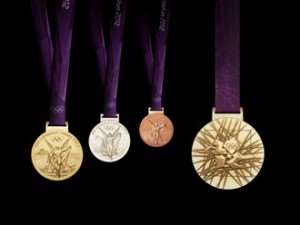 The London 2012 medals
As the countdown to the start of the London 2012 Games reached the one-year mark, the designs of the Olympic medals themselves were revealed for the first time.
The 85mm diameter and 7mm thick medals, which weigh in at 375-400g, are probably among the biggest and heaviest of any summer Olympic medals.
They were created by esteemed metalwork designer David Watkins who has exhibited at the V&A. He has worked on the design for some months, and said he is "absolutely delighted" with the finished product.
According to Jonathan Edwards, 2000 Olympic champion and triple jump world record holder, the medals will be the must-have accessory for any competing athlete.
Edwards, who is on the London 2012 athletes' committee said "We wanted something that would be representative of the effort and time that athletes had put in to produce this amazing performance. We wanted something that was a work of art essentially with creativity. I think we have got that."
"There is something special about standing on the podium, listening to the national anthem and the athletes at 2012 will be able to look down and proudly see this medal which is something beautiful – a work of art."
The front of all summer Olympic medals show images of Nike, the Greek Goddess of Victory, stepping out of the depiction of the Parthenon to arrive in the host city.
For the reverse, Wolverhampton-born Mr. Watkins created a design on five symbolic elements. He explained: "I wanted to create a dish or a circular form so that it reflected some kind of arena.
'I looked then at the (2012) logo. It is a very strong graphic object and I thought what would happen if I pushed this out. It then goes out to resemble a rocky outcrop. It achieves some substance."
It also has an image that is like a "force field of radiating lines". The five symbolic elements include a dished background which suggests an arena or a bowl similar to the design of an amphitheatre.
The core emblem is supposed to be a metaphor for the modern city, and looks like a crystalline or jewel-like growth.
The medal includes a grid which is supposed to reflect a sense of unity and outreach. The image is supposed to capture a feeling of radiating energy to match the athletes' achievements and effort.
The River Thames appears as a fluttering baroque ribbon, while there is also a square in the centre so that the overall medal has the imprint of a square in a circle. The design was selected because it is a good marriage between old and modern.
Approximately 2,100 Olympic medals will be presented in 302 Olympic victory ceremonies in over 30 venues at the London 2012 Olympics.
International Olympic Committee president Jacques Rogge described the medals as a "fitting reward" for the London 2012 Olympians.
He said: "It is the pinnacle of a sporting career to become an Olympic champion but I am confident that receiving one of these medals will make it all the more special in London next year."