NDC defectors observe one year of joining NPP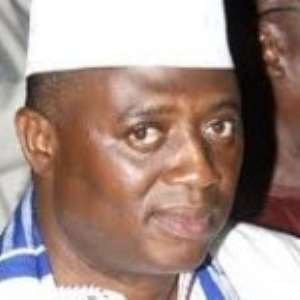 MP Adamu Dramani addressing group
A group of National Democratic Congress (NDC) defectors, who joined the New Patriotic Party (NPP) in the Ashanti Region under the name of 'Odo kakra, sika kakra' youth wing of the party, has marked the first anniversary of their crucial decision.
As a result, a host of NPP dignitaries joined the group at Aboabo Kamalia in Kumasi last Saturday to celebrate the occasion.
The Member of Parliament (MP) for the Bawku constituency, Adamu Dramani Sakande, pledged the commitment of a New Patriotic Party government to the Zongo communities and Muslims in general, and indicated that the party recognised their role in its growth.
He urged all NPP supporters to unite as one people, and forge ahead towards a massive victory in the December polls, saying, 'Let's come together and recapture power to save Ghanaians from the hands of the present NDC government, which is moribund.'
Taking his turn to address the group, the Subin Member of Parliament, Isaac Osei, thanked the constituents of Aboabo for maintaining their membership of the NPP to date, and assured them that they would not regret their choice.
He urged the people of Alabar and its environs to vote the NDC government out, and also make   sure they voted for Nana Antwi Tawiah in the upcoming elections to replace Mohammed Muntaka Mubarak at the Asawase constituency.
Mr. Osei referred to the infamous Agbesi Woyome scandal, and noted that the President was not in control as far as the day-to-day administration of the country was concerned.
The Subin MP said there was no need to maintain a government whose directives are disregarded by its own appointees without restraint.
The former COCOBOD chief executive officer urged members of the 'Odo kakra sika kakra' group to tell a brother or a sister to be part of the new biometric registration process which kicks off next month, since that was the only way they could exercise their franchise to vote the NDC out of power.
The aspiring NPP parliamentarian for the Asawase constituency, Nana Antwi Tawiah, said the time for the people of Alabar to wake up from their slumber was now, and vote for him to redeem them from the neglect of the NDC.
The Regional Chairman of the NPP, F.F. Antoh, urged the group to stay focused and ensure the NPP is returned to power to implement social interventions for the benefit of Ghanaians.