IITA offers recipe to tackle food insecurity and unemployment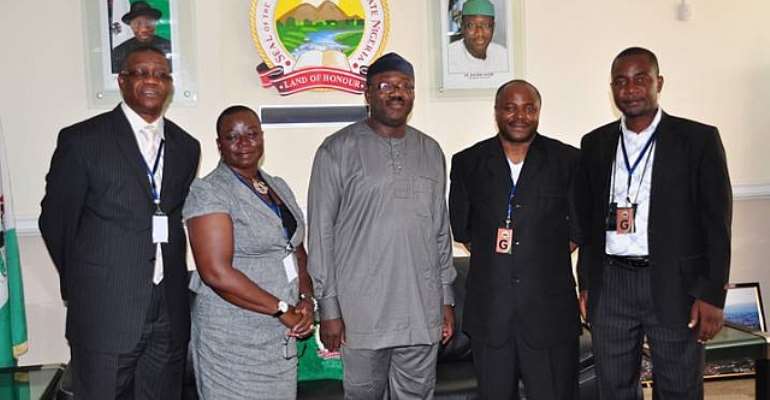 Tapping research outputs from international agricultural research centers could help national and state governments to tackle the twin problems of food insecurity and the rising wave of unemployment, says the Director General of the International Institute of Tropical Agriculture, Dr. Nteranya Sanginga.
Faced with the challenge of food deficit, most governments in developing countries and especially Africa rely on food imports to meet local demands. Also the rising population in the region poses two important challenges: more mouths to feed and unemployment.
"We have the technologies and knowledge to help boost agriculture and we are ready to share these with partners," said Dr. Sanginga when he paid a courtesy visit to the Governor of Ekiti State, Dr. Kayode Fayemi.
He said investments in research and development backed with the necessary political support could alleviate the situation of high food import burden and improve agriculture.
Pledging to step up assistance to farmers in Ekiti State, Dr. Sanginga called for greater cooperation between IITA and the government of Ekiti.
Endowed with favorable agroecological zones, Ekiti is among the states that have over the years benefited from IITA's interventions in research and development work in cocoa, yam, cassava, and banana and plantain. For instance, farmers in that state received improved cassava cuttings from the institute, while the clean seed yam technology is equally offering farmers 'seeds of hope'.
According to Sanginga, partnership is important if the goal of reducing the number of poor people and guaranteeing food security is to be achieved.
While urging the governor to tap the available improved planting materials at the institute to maximize yield on farmers' fields, he said that the yellow cassava varieties recently developed by IITA and national partners could help the state in improving the nutrition of people suffering from vitamin A deficiency.
Other areas in which the institute could support farmers in Ekiti state include deployment of improved processing technologies through the value chain approach and capacity building of agricultural actors.
The IITA Director-General also presented the 40 percent cassava bread to the governor and reiterated that IITA has a number of technologies in other crops that the state could tap.
The Ekiti State Governor, Dr. Kayode Fayemi, commended IITA for its efforts and expressed the state's willingness to collaborate with the Institute.
He said the state would require support in the area of mechanization, adding that a blueprint for the state's agricultural development is in the pipeline.
The governor said that the state has the agroecology that could be effectively tapped to feed and generate revenue internally.
He stressed that the visit of IITA was timely, adding that the blueprint being developed would help the state to take advantage of both the internal and external markets.