Why is Betty Mould free; Amoah's arrest baseless – Minority NPP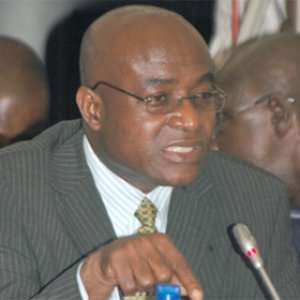 Minority Leader Osei Kyei Mensah-Bonsu
The Minority Leader in Parliament, Osei Kyei Mensah-Bonsu, has described the arrest of former deputy Minister for Youth and Sports, Hon. O. B Amoah, as a fruitless enterprise aimed at suppressing the truth in the "gargantuan judgment debt scandal".
According to him, Hon. Amoah's arrest is misplaced because the real culprits have been left off the hook.
Hon. Mensah-Bonsu, who also doubles as the Member of Parliament for the Suame constituency, stated that despite the latest attempts employed by the state, NPP MPs will not be intimidated.
Addressing a press conference by the minority caucus in Parliament on Tuesday, Hon. Mensah-Bonsu said the NPP will stand resolute in the face of several attempts to bully its members.
"By the accounts of the President, Betty Mould-Iddrisu is irresponsible and criminally minded for authorising the payments to (Alfred) Woyome," Hon Mensah-Bonsu said.
He added: "In the circumstance, why would the police not go for Betty Mould-Iddrisu? We the NPP members of parliament see no credible reason for the arrest of Hon. OB Amoah.
"It is a baseless and fruitless enterprise the police are embarking on. It is manifestly and patently an exercise in political equalization. There is only one truth in this whole saga, the state had no contract with Mr. Woyome. "
"We question the capricious use of power in the arrest of a colleague MP. We in minority will not be intimidated. We'll not lose hope and will certainly do what is right… If truth is suppressed today, it will certainly emerge tomorrow," Hon. Mensah-Bonsu added.
Meanwhile, Hon. O. B Amoah who was arrested on Sunday, charged with willfully causing financial loss to the state and subsequently released on Monday explained that he cannot be held responsible for the payment of the judgment debt because he never took a decision without consulting his superiors.
He added that he has documents to prove that any decision taken was done through legal means.
By: Kobina Welsing/Citifmonline. com