O.B Amoah's arrest in contravention of Article 117 – Mike Oquaye Jnr.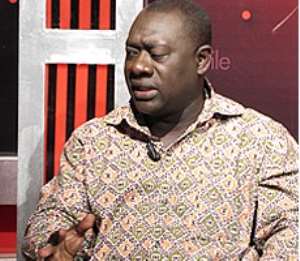 A member of former Deputy Sports Minister, Osei Bonsu Amoah's legal team, Mike Oquaye Jnr. has condemned the arrest of his client at his home Sunday night by security operatives when he was returning home from a Parliamentary Committee meeting at the La Palm Hotel.
Explaining why he believes the arrest of Mr. Amoah was unjustified, Mr. Oquaye Jnr. told Multi TV's current affairs show [pm: EXPRESS] host, Nii Arday Clegg that the arrest was in contravention of Article 117 of the 1992 Constitution which states that Members of Parliament cannot be arrested on their way to or from Parliament.
He recalled the arrest of the Member of Parliament for Abuakwa South, Atta Akyea who was also picked up by some security operatives last year but was later released after which the Inspector General of Police (IGP)wrote to the Speaker of Parliament to apologize for not seeking her permission before arresting the MP.
But, a legal practitioner and an NDC Parliamentary aspirant for Builsa North, James Agalga who was also on the show disagreed with Mr. Oquaye Jnr's submissions.
He argued that Mr. Amoah was not returning from Parliament or Parliamentary business when he was picked adding that he was picked up from his home and that is permissible by law.
He said having to write a formal notification to the Speaker of Parliament can make room for criminals to abscond, a statement which Mike Oquaye Jnr. did not support arguing that his client had already written to the Police availing himself to answer questions they might have on their ongoing investigations into the judgment debt saga.
The former Deputy Sports Minister was thus the first official from the former NPP administration to have been arrested in connection with the payment of some 51 million cedis to business man Alfred Agbesi Woyome who is currently standing trial on 6 counts including defrauding the state.
Mr. Amoah has since been charged with corruption and willfully causing financial loss to the state.
According to Mr. Oquaye Jnr., the Police interrogated his client on his involvement in the Waterville contract to which he responded that Mr. Woyome was a personal friend adding that the government had no dealings with him but rather with Waterville.
"During the reign of the NPP, neither Mr. Woyome nor his Mpawa pak came up with any suit or any problem. The first time he heard of it was during the NDC era and he could not have been responsible because he wasn't in any way consulted before Mr. Woyome was paid that judgment debt and in fact if he had been consulted, he would have told them that the government of Ghana does not know Mpawa pak or Mr. Woyome because the government does not have any contractual relationship with them" Mr. Oquaye Jnr said in defense of his client.
He said Mr. Amoah was also asked about some money he supposedly received from Mr. Woyome to which he indicated his surprise saying "if Mr. Woyome had given his tithe or money to the Church, would they be asking the Church about the money?"
According to him Mr. Amoah conceded that Mr. Woyome gave him some money for political support and also money to procure some land for him (Mr. Woyome) at Kitase in Aburi which he has done.
He further stated that the state realized it would be a mistake to loop the Kitase land sale to the Woyome case because it was a private matter in which the Kitase Chief whom Mr. Amoah represented with this Waterville case since the Chief has not gone public with any complaints about the sale.
"It would have been very unfortunate to have charged Mr. Amoah on such frivolous charges only for them to go and loose. I think reason and sense took over and the whole thing was treated fairly. My only concern is how he was arrested", Mr. Oquaye Jnr noted.
Reading from some documents he had with him in the studio, Mr. Agalga stated that EOCO's interim report indicted Mr. O B Amoah in that he was the one who gave the green light for the contractors from Waterville to move to site during the CAN 2008 stadia renovation ahead of a contractual agreement from government.
"Clearly they did some financial engineering" he stated. "They spent a lot of money on the commencement of works on the stadia which were used for the CAN 2008 and so when they put in their claim, the government was bound to pay" he said.
He noted that the Police CID and Attorney General's office have committed themselves to interrogate the issues further and expressed the hope that this could have been prevented if the NPP had submitted themselves to the EOCO's earlier investigations.
But Mike Oquaye Jnr. disagreed with him indicating that it is a lie for Waterville to claim government owes them with accrued interest because they were paid in full. He said Waterville never mentioned any 11 million Euros arrears to Kwadwo Mpiani, the then Chief of Staff because they were paid in full.