Chirano Mines has a brighter future - General Manager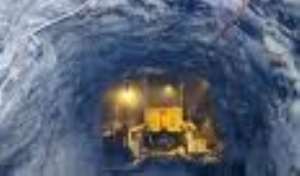 Akoti/Ewtebo, Feb. 21 GNA - Mr John Seaward, General Manager of Chirano Gold Mines limited(CGML), has said the prospects of CGML are bright one year after joining the Kinross Gold Corporation(KGC).
He said the steady improvement in production over the past few years was an indication that 2012 will be full of successes for CGML.
Mr Seaward was speaking at an annual get-together organized by himself and his wife for Managers, Superintendents of CGML, Chiefs within the catchment area of the mine and members of the Community Consultative Committee (CCC) at his residence over the weekend.
He said changes in management coupled with hard work led to the growth in production and urged all employees to do their best.
He said CGML is the smallest in the KGC group but its contributions to the mining sector is significant and pledged that greater things will continue to happen at CGML.
Mr Seaward thanked all employees, the CCC, Chiefs within the catchment area and all stakeholders for the various roles they played over the years leading to the success story.
GNA