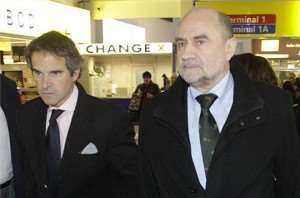 A delegation from the UN nuclear watchdog has arrived in Iran on Monday for talks aimed at defusing international tensions over the country's atomic programme.
"We hope to have a couple of good and constructive days in Tehran," Herman Nackaerts, deputy-director general of the UN International Atomic Energy Agency (IAEA), said at Vienna airport as the five-member team prepared to depart.
"The highest priority remains of course the possible military dimensions of Iran's nuclear programme," he told reporters, making clear he wanted to see concrete results in the talks with Iranian officials.
Western diplomats have downplayed any hopes of a major breakthrough during the two-day talks, even though it comes just a few days after signs of a possible opening for diplomacy in the long-running nuclear dispute.
The outcome, after an inconclusive first round of discussions last month, could determine whether the international standoff over Iran's uranium enrichment programme escalates further or offers scope to reduce tensions.
Iran denies Western allegations that it is seeking to develop nuclear weapons but its refusal to curb uranium enrichment work, which it says is for civilian purposes, has raised concerns.
Ali Akbar Salehi, the Iranian foreign minister said his country was keen to quickly resume talks with world powers, once a place and date were agreed.
The last talks collapsed in Istanbul in January 2011, but Tehran has responded positively to an EU offer to look at reviving them. Aljazeera