Eurozone set to decide on Greek rescue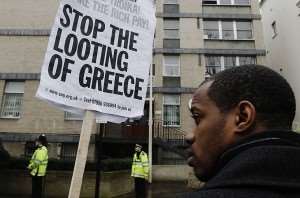 Protests have been held in many cities across Europe in solidarity with the people o
Eurozone finance ministers are expected to approve a $170bn second bailout package for Greece in order to prevent the beleaguered country from defaulting on its debt.
After weeks of difficult negotiations, the ministers are scheduled to start meeting at the EU headquarters in Brussels from 3:30pm local time (14:30 GMT) on Monday, bidding to greenlight terms on an exchange of bonds held by private investors.
Senior officials from eurozone finance ministries and the European Central Bank held a conference call on Sunday to go over the final details of the bailout, including a debt sustainability analysis critical to the International Monetary Fund [IMF].
For the caretaker Greek government led by technocrat Lucas Papademos, financial aid is needed to meet bond repayments of 14.5bn euros [$18.8bn] due on March 20.
Papademos flew to Brussels for last-minute preparations as thousands of demonstrators massed in the capital Athens' central Syntagma square.
Riot police shielded the national assembly, braced against a repeat of riots a week ago that saw buildings torched and looted across downtown Athens after a much larger rally involving tens of thousands.
There have been demonstrations in many cities across Europe in solidarity with Greek people who have been hit hard in the wake of massive austerity cuts.
Greek parliament last week passed austerity measures worth 3.3bn euros [$4.3bn] that included cuts in pension, salaries and tax increases.
There is still scepticism in Germany and other countries that Greece will be able to live up to its commitments, but officials said momentum was building for approval of the deal.
Germany and The Netherlands still need to get the second bailout passed in their respective parliaments.
"At the moment it appears it will go exactly this way," Maria Fekter, Austrian finance minister, said.
Aljazeera