Exclude children from political campaigns - GNAT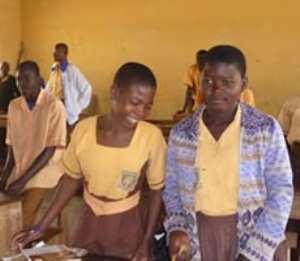 The Ghana National Association of Teachers (GNAT) has appealed to politicians to exclude children in their political campaign in the 2012 presidential and parliamentary elections.
It, therefore, charged politicians to allow fair play, tolerance of different views and inculcate the essence of discipline as these would calm political tension in the build up to election 2012
Speaking to the Graphic, the General Secretary, Mrs. Irene Duncan-Adanusa, said in the presentation of campaign messages, politicians must clearly state the policies and method they intend to initiate to develop the country, particularly in ensuring quality education for the citizen.
"We must know what the educational sector stands to gain, particularly for both teachers and students since they are more likely to be affected should anything go wrong" she said.
According to her, electorates should be presented with a variety of political products packaged properly to enable them choose which is of much interest to them.
Mrs. Duncan-Adanusa said the key to improving the standard of education was supporting teachers, citing motivation, provision of facilities like electricity, particularly in the rural areas, as solid areas to facilitate quality growth in that sector.
She said as part of their contribution to ensure free, fair and transparent election, GNAT had teamed up with civil society organisations and some NGO's to assist the National Commission for Civic Education (NCCE) in educating the electorate.
"We must involve all stakeholders and the general public, not forgetting those in the rural areas in particular in the basic dos and don'ts before, during and after election 2012'', she suggested.
Touching on the youth, Mrs. Duncan-Adanusa said there was the need to involve them in the beginning processes of election "which means they must be allowed to actively participate in electoral activities''.
She discouraged minors from getting involved in the registration process cautioning them to refrain from activities that could lead them to serious problems.
She, however, urged the youth to remain focused on peace by ignoring the persuasion of some politician to lure them with monetary reward to instigate tension and confusion.