Ugandan PM lauds Ghana's Inter-party cohesion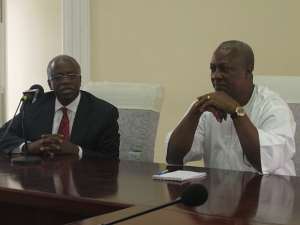 The Prime Minister of Uganda, the Rt. Hon. Amama Mbabazi, says one of the biggest lessons his country is learning from Ghana is the high level of cohesion, tolerance and cooperation among political parties despite their differences.
"In Uganda we're still enemies, real enemies. If you see how we campaign and conduct our politics, it is not the best," he said.
Rt. Hon. Mbabazi said this when he led a delegation to pay a courtesy call on the Vice-President, Mr John Dramani Mahama, at the Osu Castle.
The delegation was made up of four ministers of state, members of parliament and officials of the Ugandan ruling party, the National Resistance Movement (NRM). There were in the country for a three-day high level meeting between leaders of the NRM and the ruling National Democratic Congress (NDC).
The meeting, which was organised by the Institute of Economic Affairs (IEA), also created a platform for the NRM delegation to meet with some executive of the New Patriotic Party (NPP) and the Convention People's Party (CPP).
The Ugandan Prime Minister said his country had a lot to learn a lot from Ghana in order to consolidate its democracy. He said both Ghana and Uganda shared a bitter history of political upheavals that had marred the developments after independence.
"Ours was severe like what happened in Rwanda because we also lost about 800,000 people in those wars. What makes ours less noticeable is that it happened within a period of 13 years while that of Rwanda happened in 90 days," he said.
He said such a bitter experience had challenged them to consolidate democracy and work together to create opportunities for their people.
Another area which Ghana and Uganda shared in common, Rt. Hon. Mbabazi noted, was the two countries' discovery of oil at the same time. He said the visit also enabled them to tap into the experiences of Ghana's oil exploration in order to learn the best practices in the sector.
Vice-President John Dramani Mahama said Ghana was honoured to have such a high level delegation in the country to learn some of the best practices. He said Ghana had its share of the sad political history but had resolved since 1992 to be guided by democratic principles such as the respect for human rights and the guarantee of freedom of speech and expressions.
He said through think tanks such as the IEA, the tension between political parties in the country had eased considerably. He said the IEA had gone further to ensure dialogue among political parties in the sub-region through the IEA's West Africa Political Parties Dialogue. He hoped that the two countries would continue to cooperate and help consolidate the democratic gains made so far.