Minority MPs must apologise to the President - Bright Akwetey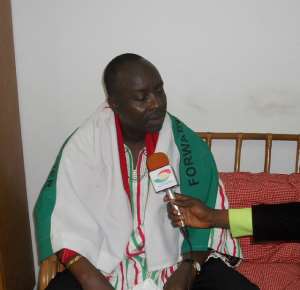 Accra, Feb. 20, GNA – Mr. Bright O. Akwetey, Flag bearer Aspirant of the Convention People's Party (CPP) on Monday called on the Minority Members of Parliament to apologise to President John Evans Atta Mills for denigrating his high office.
He said the heckling of the President by the main opposition New Patriotic Party (NPP), when he was delivering the State of the Nation Address on the floor of Parliament last Thursday undermined the dignity and integrity of the country.
He said the President is the embodiment of the spirit and soul of Ghana hence the need for every Ghanaian no matter his or her status or political affiliation to accord him the highest respect, recognition and acknowledgment.
Mr Akwetey made the call when he filed his nomination papers to contest for the CPP Flag bearership.
"I describe Thursday February 16th 2012 as Ghana's Day of Shame.
"The shameful event of February 16th 2012 must never recur in the political history of this country," Mr Akwetey stated.
He called on the NPP as a political party and the Minority MP's to render an unqualified apology to the President and the good people of Ghana.
The CPP Flag bearer Aspirants observed that the attitude and mannerism of NPP members who decided to wear mourning clothes with red bands to grace the presentation of the State of the Nation Address was reprehensible.
He said the needless heckling and jeering of the President of Ghana and showing him red cards; amidst blowing of whistles and shouts of "away" "away" was undemocratic act against the country's cultural norms and traditions.
Mr Akwetey said the attitude of the Minority MPs cut a very shameful and humiliating spectacle for all Ghanaians and Ghana as a State, as it occurred in the full view of the international community.
He appealed to Ghanaians to ensure a peaceful atmosphere for the 2012 General Election… "It is my considered opinion, and I believe that of my Party as well, that even though Election 2012 is crucial to the development of this country, it is not a do or die affair".
"We are all involved in a contest for governance of this country. We can do without violence in this contest."
Mr Akwetey appealed to CPP members to begin mobilising support for the Party across the country and vote massively for him at the National Delegates Congress of party.
The CPP will close nomination on Thursday, February 23.
GNA