Elections 2012 estimated at 243, million Ghana Cedis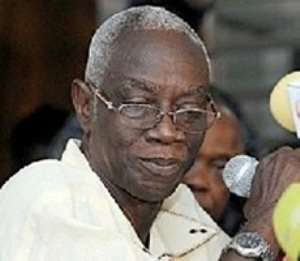 Dr. Kwadwo Afari-Gyan
Elections 2012 is estimated to cost the nation 243, 528, 305.00 Ghana Cedis, Electoral Commission (EC) Electoral Budget available to the Ghana News Agency at the weekend revealed.
The budget estimates that the Biometric Voter Registration Exercise will cost 148,942,378.00 Ghana cedis; the exhibition of the Provisional Register 7,477,966.00 Ghana cedis and the Presidential and Parliamentary elections 87,107,961.00 Ghana cedis.
Explaining the Financial estimates, Dr Kwadwo Afari-Gyan said Government have already released a total of 134,726, 083.00 Ghana cedis so far to the Commission.
He said due to the timely release of funds, the EC was ready to undertake a Biometric Voter Registration of all eligible persons, including prisoners, in all regions and districts, at the same time, from March 24th to May 5th.
The EC Chairman explained that Digital Registration Kit embedded with a computer, a webcam, a finger print scanner, an inkjet printer, a power regulator and Li-lon batteries would be used for the Biometric Voter Registration.
Dr Afari-Gyan said the Commission has purchased 7000 kits for the registration, stressing that each kit was housed in a compact, lockable and robust case, which was water, dust and shock proof.
He however noted that 7000 kits were not enough for nationwide registration at the over 23,000 polling stations at the same time, therefore polling stations in each district of the country had been grouped into clusters, with each cluster consisting of four polling stations.
He said a team of six persons would be responsible for the registration of voters in each cluster, adding that the team would spend ten days at each polling station before moving on to another, which would make the actual registration period 40 days throughout the country.
Dr Afari-Gyan said apart from the six-person team per cluster of polling stations, there will be three registration supervisors and two technicians for each district.
The EC Chairman said it was unfortunate that whilst many took great delight in making allegations of electoral fraud causing unnecessary panic in the process, these personalities failed to take time to learn about the various measures that had been put in place to ensure that fraud was easily detected and prevented.
Dr.Afari-Gyan advised Ghanaians to acquaint themselves well enough with the various electoral processes, in order not to easily get swept off by rumours that had utterly no basis.