Senegal opposition calls fresh protest after riots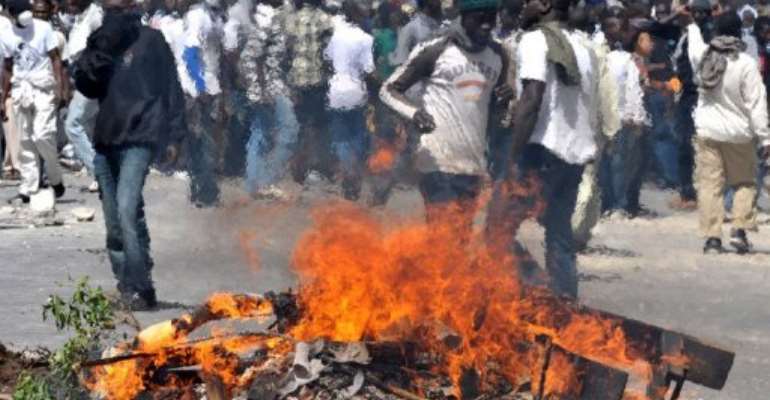 DAKAR (AFP) - Senegal's opposition called for fresh protests Monday in the capital Dakar after a week of urban clashes which have left two dead.
"We call for a protest at 3:00 pm (1500GMT) at Independence Square," said Alioune Tine, coordinator of the June 23 Movement (M23) of opposition and civil society against President Abdoulaye Wade's third term bid in February 26 polls.
Tension is running high in the usually peaceful country, six days ahead of presidential polls in which 85-year-old Wade is seeking a controversial third term in office which the opposition says is unconstitutional.
Two daily newspapers headlined that the country was "bloody and on fire" after riots erupted around Senegal on Sunday.
The seaside capital was the scene of violent clashes between protesters and police for the fifth day in a row, as angry youths belted riot police with rocks and set fires in main streets.
Security forces riposted with rubber bullets and volleys of potent invisible teargas.
A Senegalese man became the second to die in the clashes after being accidentally wounded in the clashes in a Dakar suburb, a religious leader was quoted Monday as saying by the state news agency APS.
"The victim was not demonstrating, he had gone to the bakery to buy bread," Abdoul Aziz Ndoye, a Muslim cleric and the young man's tutor, said. It was the second death in a weekend of violence ahead of presidential elections.
"I cannot understand any justification for such an act," the imam said, adding that he had agreed with the victim's family that legal proceedings would be undertaken.
When contacted by AFP, the police could not confirm the man's death, which occurred on Sunday evening and brought to six the number of people killed in election-related violence in the west African country.
The opposition says Wade's candidacy is unconstitutional because he has already served the maximum two terms but he argues changes to the constitution during his second mandate mean he can run again.
Senegalese riot police fired volleys of tear gas and rubber bullets at stone-throwing demonstrators after prayers at a mosque in Dakar Sunday.
Protestors accused the authorities of desecrating the mosque, forcing the government to apologise for what it described as a "police blunder".