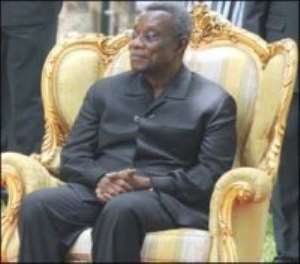 BONGIORNO SIG PRESIDENTE, GOOD MORNING MR PRESIDENT,
I have always adored you ,since you entered into politics, in opposition and in government, I sometimes see the character of my late dad in you, pure fante blooded from Abura ABK and I like you as a person. Mr President please and please let go that mantra of father for all because 'DOGS DO NOT VALUE PRECIOUS ORNAMENTS'. This mantra I may say its quenching THE FIRE OF THE NDC,WHEN WE WON THERE WAS NO VICTORS RALLY. Why have we become so melancholies in our doings, since we won power these people have been talking and are still talking .DR Kwame Nkrumah did his best yet they hooted at him when he was overthrown by these nation wreckers. JJ Rawlings under who you were a vice-president did his best yet they called him names and jailed his ministers PLEASE PRESIDENT MILLS FOR GOD SAKE (BARE YOUR TEETH FOR ONCE)7TIMES.BITE BITE KEKA KEKA KEKA KEKA AAAA UNCLE ATTA .Look at this idiot ,osikani kurasini uncultured guy calling you a thief (myjoyonline.com)
Lay the streets of Ghana with pure gold, fill our pipelines with milk, NPP would vote NPP and NDC would vote NDC. Please do your best and live the rest to God, but deal with them noooowwww before it's too late, had I known ……………….Wooyome or not we NDC would always vote NDC because they have nothing to offer us. TO HELL WITH RULE OF LAW, TO HELL WITH THE JUDGES AND THESE BASTARD LAWMAKERS .Uncle Atta even if and I mean even if we would lose the elections, God forbid, taafiakwa, over my head, TEACH THEM AT LEAST ONE LESSON , THEY CAN GET AWAY WITH IT.
Uncle Atta, Miss Obeng, Ahwoi bros, Tony, so do you guys hear or read what these nation wreckers are saying,. DO NOT LEAD US TO PATH OF NO RETURN, PLEASE RIVIVE THE FIRE OF THE GREAT NNNN DDDDDDDDDDD CCCCCCCCC. Jesus Christ even a point in time went over board, please sir do not be like my dad who would go soft soft when co tenants are tormenting his children. The fire of the NDC must be vitalized by you, because followers of a leader become calm when the leader is
Advertisement
Calmosis (brofo my dictionary) JAIL THEM BEFORE THEY JAIL US, SHUT THEM UP BEFORE THEY OVERPOWER US .I HAVE SAID MINEOOOOO
GOD BLESS YOU UNCLE ATTA, BLESSED BLESS

THOMAS ARTHUR