Somalia's Islamist supremo: Ahmed Abdi Godane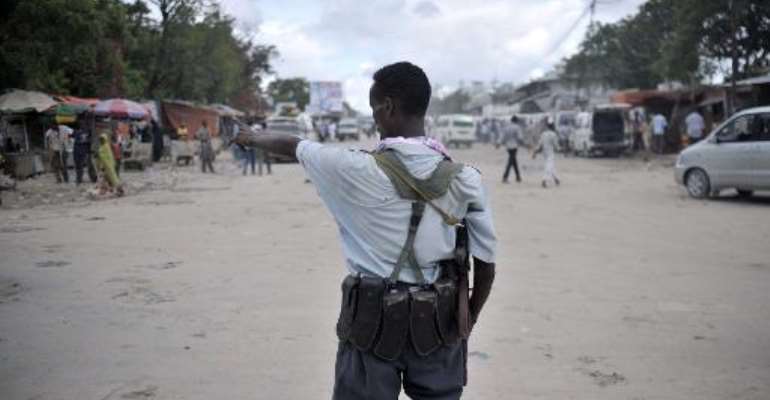 Nairobi (AFP) - Ahmed Abdi Godane, whose Shebab group has said it carried out a deadly raid on a Nairobi mall, has transformed chronically-unstable Somalia into one of Al-Qaeda's main global hubs.
Reportedly trained in Afghanistan with the Taliban, Godane -- often known by the name Abu Zubayr -- took over the leadership of the Shebab in 2008 after then leader Adan Hashi Ayro was killed by a US missile attack.
Al-Qaeda chief Ayman al-Zawahiri has recognised Godane as the head of the "mujahedeen" in East Africa, although letters released after Osama bin Laden's death show the late Saudi Islamist leader had lower regard for the Somali's abilities.
The camera-shy extremist, a slightly built man who is known to enjoy writing poetry and is said to have once worked as an accountant for an airline company, espouses the language of global jihad.
Godane claimed responsibility for July 2010 bombings in the Ugandan capital Kampala that killed 74 people.
On Saturday Islamist gunmen stormed an upscale shopping centre in Nairobi and took hostages in a four-day siege that left at least 67 dead. The Shebab claimed on its Twitter account that 137 hostages were killed.
It remained unclear however exactly who carried out the attack.
With the Kenyan authorities yet to release information on the composition of the group, there was contradictory information on the possible involvement of foreign jihadists and members of the Somali diaspora and even a breakaway Shebab group.
In 2010, Godane was rumoured to have been pushed out of this post as top leader, but the UN Monitoring Group on Somalia said he has managed to hang on by developing the Shebab's internal secret service.
The panel's latest report in July said the Shebab's Amniyat -- or secret service -- is "structured along the lines of a clandestine organisation within the organisation with the intention of surviving any kind of dissolution" of the group.
However the same report noted that Godane had faced discontent from several of his top commanders, notably over his open threats to Omar Hammami -- the Alabama-bred public face of the Shebab who was killed by fellow fighters earlier this month -- and for unjustly detaining newcoming foreign fighters.
"Shebab is not divided into several factions but is one body ruled by Ahmed Godane," one of his aides told AFP Wednesday, in a bid to dispel rumours that Shebab had splintered.
Rather than leading troops in the field Godane instead often communicates through audio recordings, a leadership style that garners little respect from those Somali fighters who want a leader to fight on the battlefield.
Instead Godane, educated at an Islamic school in Pakistan, enjoys reading, listening to and reciting Somali poetry, especially those verses that chronicle resistance to British and Italian colonial rule.
The soft-spoken militant -- wanted in his homeland Somaliland for murder and an attempted bombing attack -- lists the 19 century anti-British colonial fighter Sayid Mohamed Abdulle Hassan, the "Mad Mullah", as a role model.
Like the "Mad Mullah", Godane hails from the northern breakaway region of Somaliland, seen as a rare area of stability in the anarchic and war-torn Horn of Africa nation of Somalia.
He once ran a small supermarket in the Somaliland's capital Hargeisa with his long-time friend and key architect of the Shebab, Ibrahim Haji Jama Me'ad, also known as Ibrahim Afghani, due to his training in Afghanistan.
Seen as an important driver of the recruitment of new members and close to foreign fighters within the Shebab, he is also believed responsible for a 2008 purge of commanders deemed ideologically too soft.
The US State Department lists Godane as one of the world's eight top terror fugitives.
He is included in a third category of men on whom information warrants a $7-million reward, alongside Nigeria's Boko Haram leader, but under the Taliban's Mullah Omar, for whom a tip is worth up to $10 million, and Zawahiri, who fetches $25 million.
Godane is also wanted for the 2003 murder of British couple Richard and Enid Eyeington, who were shot dead at the school they taught at in Somaliland.