Urban clashes as Senegal police push back protesters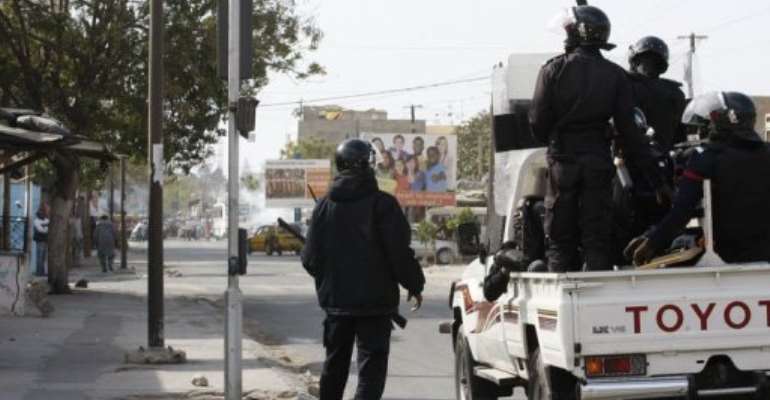 DAKAR (AFP) - Senegalese police engaged in running battles with protesters in downtown Dakar Friday as they attempted to stamp out a planned protest against President Abdoulaye Wade's third term bid.
Burning debris and rocks littered the streets around Independence Square as riot police on trucks and foot chased protesters to prevent them from converging, firing volleys of tear gas throughout the afternoon.
A policeman was seen firing his gun during a scuffle at the Sandaga market, and an AFP journalist found a spent 9mm bullet casing in the street after protesters lobbed rocks at the police during the ongoing battles. A policemen fell off a truck after being hit by a rock.
The chaos at the market was sparked by the arrival of music superstar Youssou Ndour, who was blocked from running in the election himself but has been present at most protests and fiercely critical of 85-year-old Wade.
Opposition presidential candidate Cheikh Bamba Dieye was taken away by police as he attempted to join the protest, and was reported to have been arrested, however he later returned to his party headquarters.
Police commissioner Harona Sy denied he was ever arrested.
Normally bustling, downtown Dakar cleared out ahead of the protest Friday afternoon, with shopowners closing up and curious residents and office workers looking on from buildings lining the teargas-filled streets.
A young entrepreneur sold masks to those taking part or witnessing to protect them from the fumes. "I don't care, I am for Wade, I just want to make some money. Vive Abdoulaye Wade," he told AFP.
With nine days left of the tense run up to the polls, the opposition has struggled to get protests off the ground as the government bans their gatherings and police thwart their attempts to form a crowd.
On Tuesday, a planned permanent sit-in by rapper-led youth movement "Fed Up" was blocked by police who prevented them from settling in at Obelisk Square in the suburb of Medina.
On Wednesday riot police quicky dispersed an attempted M23 protest, firing tear gas, rubber bullets and water cannon at Independence Square, which lies a few hundred metres from the presidential palace.
And on Thursday police arrested several members of "Fed Up" who again attempted to hold their sit in.
In a statement the group said it plans to "continue the fight to combat rampant despotism and nothing can derail us."
A police source told AFP the members of the movement had been "taken into custody."
"There are many of them. They are accused of organising and participating in a banned protest," he said, without giving a number.
M23 coordinator Alioune Tine has denounced the response by riot police to the protests as "completely irrational and dictated by fear".
After calling Friday's protest he said: "On Saturday we will return to the same Independence Square from 11 am. It will be a day of action across the whole country."
The opposition movement, which includes several presidential candidates, launched a campaign to pressure Wade to step aside after the country's highest court validated his candidacy for a third term on January 27.
As M23 decried the third term bid as unconstitutional, violent protests erupted in Dakar and spread through the west African nation, leaving four dead.
Wade, Africa's second oldest leader after Zimbabwe's Robert Mugabe, argues that changes to the constitution in 2008 mean he can serve two more mandates.
He has remained defiant, brushing off opposition protests as "temper tantrums" and said he doesn't take advice from Toubabs (westerners) after France and the United States said he should cede power to the next generation.
As the official election campaign kicked off Wade has swept energetically through the country promising universities, roads, airports and massive agricultural projects to win over some five million registered voters.
The 13 opposition contenders, who failed to find a consensus candidate before the campaign, took to individual vote lobbying and the anti-Wade campaign appeared to run out of steam with turnout only running to several hundred.