Majority remains calm while Minority heckle President Mills with Woyome song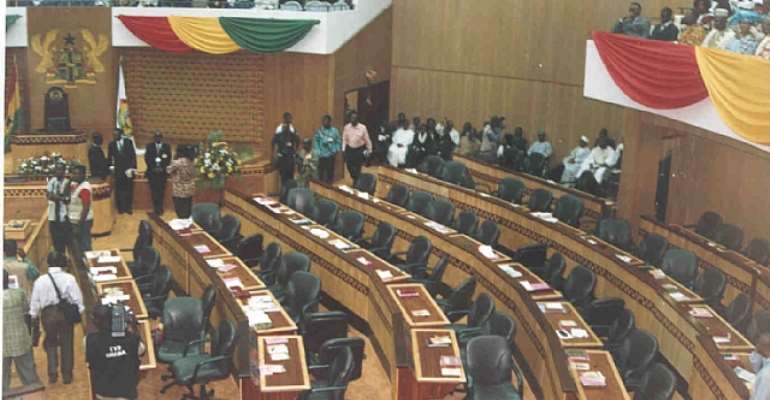 Accra, Feb. 16, GNA - President John Evans Atta Mills' State of the Nation address in Parliament on Thursday was characterized by much heckling by the Minority singing "Woyome Woyome Woyome gargantuan munkye-ndi" while the Majority remained calm.
The address on the theme: "Still Building a Better Ghana" President Atta Mills who was equally calm despite the attitude of the Minority remarked at the end of the address, "I am aware of heckling in the House, but did not expect such gargantuan heckling".
In separate interviews with the Ghana News Agency (GNA) Majority members expressed satisfaction with the address while some of the Minority disagreed to most of the issues raised in the address, saying the NDC Government had failed to achieve the targets in their manifesto.
Mr Enoch Teye Mensah, Minister of Water Resources, Works and Housing, said the address was a collection of information from all the sector ministries and a true reflection of the economy.
He said, "I am sad and ashamed about what happened in the House, the Minority pulling out red cards which showed so much indiscipline. We need to stop this because the President is a spiritual embodiment of the nation, I would not do this if they are in government".
Mr James Klutze, Chairman of Finance Committee in Parliament said the address was concise and informed Ghanaians about the status of the economy in 2009, the status now and the vision.
He noted that all the sectors were touched and one of the best.
Mr Johnson Asiedu Nketiah, General Secretary of NDC said many things were wrong with the heckling by the Minority, and should have commended President Mills for the manner he handled the issues on corruption.
Dr Richard Anane, New Patriotic Party Member for Nhyiaeso, said the National Health Insurance Scheme had since 2010 been going down and estimated that by 2013 the scheme would not exist as the issue about capitation in Ashanti Region, protests by the people had not shown good signs because the implementation was wrong.
Minority Leader, Osei Kyei Mensah Bonsu, said President Mills pledged to achieve all the targets in the NDC manifesto but had failed.
However, he admitted that government was a human institution and not expected to achieve all its targets and yet new promises were made.
Mr Paul Collins Appiah Ofori, NPP Member for Asikuma/Odoben/Brakwa said President Mills had failed and pointed out that the Minority in mourning clothes indicated the demise of the NDC Government and the red cards signified that there was danger ahead for the NDC.
GNA