Senegal police arrest opposition youth leaders, protesters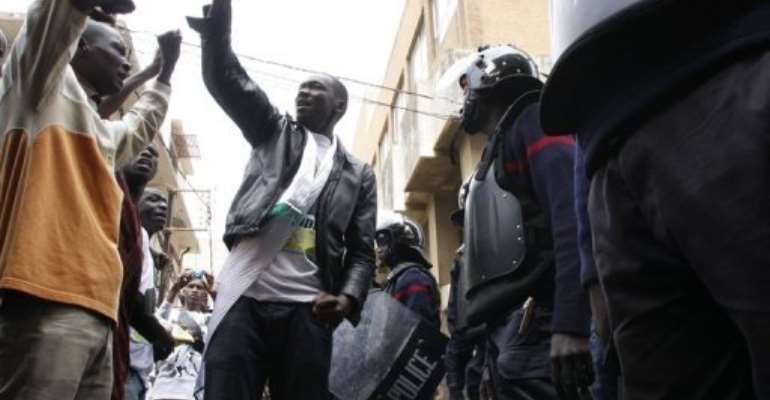 DAKAR (AFP) - Senegal police on Thursday thwarted another opposition protest against President Abdoulaye Wade's third term bid, arresting eight members of a youth movement which sought to stage a permanent sit-in.
Police earlier fired tear gas to disperse youths attempting to converge on Obelisk Square, and when they tried to return, arrested at least eight, including leaders of the "Fed Up" movement known as Simon and Kilifeu.
Water cannon extinguished burning tyres which the youths set ablaze in small streets near the square where scores of riot police were deployed.
However small groups of youths started setting tyres alight in several suburbs of the seaside capital, an AFP journalist reported.
The permanent sit-in was supposed to start on Tuesday but riot police prevented youths from accessing the square, which has been the scene of protests in recent weeks against 85-year-old Wade's plans to run in the February 26 poll.
Interior Minister Ousmane Ngom earlier branded the planned sit-in "criminal vagrancy" and said it was "clearly seditious".
"With or without permission 'Fed Up' will be at Obelisk Square today," Aliou Sane, one of the movement's leaders, said at a press conference earlier Thursday.
The youths also form part of the June 23 Movement (M23) of opposition and civil society opposed to Wade's candidacy, which has again called on its supporters to protest on Friday and Saturday at Independence Square in the heart of the city.
The government fiercely opposes any gathering at the square, which lies a few hundred metres from the presidential palace and where police on Wednesday dispersed hundreds of people with tear gas, rubber bullets and water cannon.
"We have decided to return tomorrow to Independence Square at 3 pm (1500 GMT) after (Friday) prayers," M23 coordinator Alioune Tine told journalists.
"On Saturday we will return to the same Independence Square from 11 am. It will be a day of action across the whole country."
Tine denounced the response by riot police to the protests as "completely irrational and dictated by fear".
The opposition movement, which includes several presidential candidates has vowed a united front as it pressures Wade to step aside.
On January 27, when the country's highest court validated Wade's candidacy for a third term which the opposition says is unconstitutional, violent protests erupted in Dakar and spread through the country, leaving four people dead.
As individual vote lobbying got underway, the campaign appears to have run out of steam and turnout has waned at opposition demonstrations which government has thwarted at every turn.
Wade, Africa's second oldest leader after Zimbabwe's Robert Mugabe, argues that changes to the constitution in 2008 mean he can serve two more mandates.
Despite national anger and criticism from abroad, Wade has remained defiant, campaigning energetically throughout the country and promising development and ambitious programmes.
With just 10 days to go until the election, no clear opposition frontrunner has emerged out of 13 candidates taking on Wade, and the opposition vote is likely to be split.