Chief Grabbed Over Dead Cop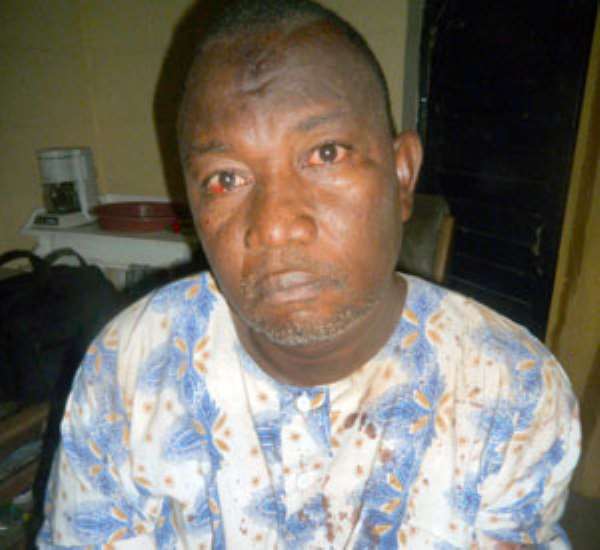 BUSTED! Chief Husseine Mikail Agbo Narh III
Chief Hussein Mikail Agbo Narh III, Chief of Tuba, near Weija in Accra, who allegedly helped a robbery suspect, Daud Tetteh, and five others to escape after killing a policeman in the town, has been arrested by the police.
The chief, also an uncle to Tetteh, allegedly helped the suspects to escape after killing Lance Corporal Ernest Asamoah and injuring three other police personnel last Saturday around 12:30am.
The names of the five acquaintances who escaped with Daud Tetteh aka Dada were given as Habibu, Alex, Nattey, Tetteh and one Nartey.
They are currently on police wanted list.
Superintendent Barffour Apenteng, deputy Accra regional crime officer, said the chief was part of 76 persons arrested on Tuesday dawn in a swoop by the police.
According to information gathered, after allegedly killing the policeman, Chief Hussein Mikail Agbo Narh III, also known as Mikail, 48, urged the suspects to escape arrest.
The five however brought in an old Benz vehicle to pick Tetteh to an unknown destination.
The body of Lance Corporal Ernest Asamoah, formerly attached to the Weija District Police Station, has since been deposited at the Police Hospital morgue awaiting autopsy.
The three policemen who sustained injuries- Corporal Joseph Engme, Corporal Samuel Owusu and Lance Corporal Prince Okyere- are currently on admission at the Police Hospital receiving treatment.
Lance Corporal Ernest Asamoah was shot dead around 12:30am on Saturday morning, February 11, 2012, after he and his colleagues had gone to Tuba to arrest Daud Tetteh.
Suspect Tetteh allegedly shot the policeman at a close range from his hideout upon realizing police presence in his uncompleted building at Tuba.
That was after the police had a tip-off that the suspect was involved in cases of robbery and rape.
A handsome reward has been set aside for anyone who would proffer information leading to the arrest of the suspects.
By Linda Tenyah