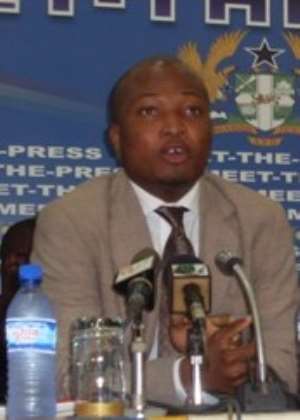 Accra, Feb. 9, GNA - Government on Thursday confirmed the arrest of Christian Asem Dakey also known as the limping man.
A statement from the Ministry of Information revealed that the arrest was carried out by the Bureau of National Investigation (BNI) on February 2, after months of surveillance.
Signed by Mr Samuel Okudzeto Ablakwa, Deputy Minister of Information, it said Government considered the arrest of Dakey a significant step forward in unraveling the mystery surrounding the yet to be found 77 parcels of cocaine.
The statement revealed that soon after President Mills' decision to reopen investigations into the MV Benjamin Case as announced during his 2011 State of the Nation Address, intelligence showed that certain key actors who had hitherto been elusive to the State were beginning to come to the attention of National Security hence the decision to first pursue those leads.
"This breakthrough has showed that the President's strategy has paid-off and that though the fight against the illicit drug menace would be arduous, it would be won," the statement added.
Meanwhile, Dakey was on Wednesday, remanded in BNI custody by an Accra Circuit Court to reappear on February 22.
GNA