Parliament amends Local Gov Act 462 …to allow EC declare Municipal areas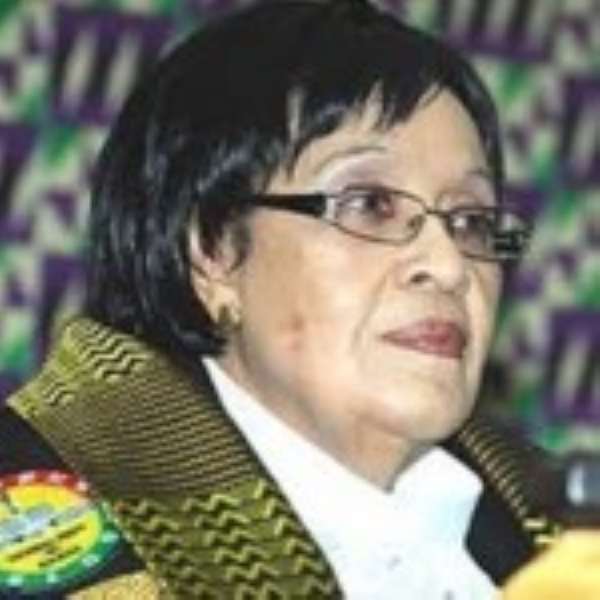 Mrs. Joyce Bamford-Addo, Speaker of Parliament
Parliament has amended sub-section (4) of section 1 of Act 462 of the local government Act 1993. This is to enable the Electoral Commission (EC) remove the geographical limitation on the declaration of an area as a Municipality.
Moving the motion for the second reading of the amendment to an Act, local government Minister, Samuel Ofosu Ampofo said the objective of the bill is to enable geographical areas which are not single compact settlements to be declared Municipalities.
He indicated that the local government Act in providing for the creation of districts in Section 1, and the recommendations to be made by the EC to the President, in that regard in subsection 1, required the EC in making recommendations for the establishment of a Municipality to consider whether the geographical area to be declared a Municipality consist of a single compact settlement with a minimum population of ninety five thousand people (95,000).
The effect of this requirement according to the minister is that where a geographical area is a single compact settlement but does not have a population of ninety five thousand people that area cannot be declared a municipality.
The Minister stated that it is so when the geographical areas consist of a number of contiguous settlements which together has a population far in excess of the ninety five thousand.
Although the single compact areas are contiguous and together have a population in excess of ninety five thousand people (95,000), they do not constitute a single compact settlement.
Mr. Ofosu Ampofo explained that the requirement is, therefore, a stumbling block to the creation of Municipalities and limits the geographical areas which can be declared as Municipalities.
This, he said, creates a situation where contiguous compact settlements which for the purpose of effective administration and infrastructural and other development will be best managed, as Municipalities are deprived of Municipal status.
To remove this obstacle, government proposes that that part of subsection (4) of section 1 of Act 462 which requires the EC in making recommendations for the declaration of a municipality to take into consideration whether the geographical area is a compact single settlement should be deleted.
Presenting the report of the committee, chairman of the local government committee and Minister designate at the office of the President, Dominic Azumah Azimbe, said the amendment will ensure that all tiers of assemblies in Ghana are differentiated by a common denominator which is population.
He said it was revealed to the committee that if the deletion is effected, the population factor could be used to define a Municipality so as to be consistent with the definitions of district and Metropolitan areas.
The committee observed that the amendment is being proposed to create eight new Municipalities and also cater for eight existing Municipalities created in 2004 and 2007, to streamline issues.
He added that if the amendment is not effected, the number of Municipalities created will be null and void. The house unanimously approved the amendment.