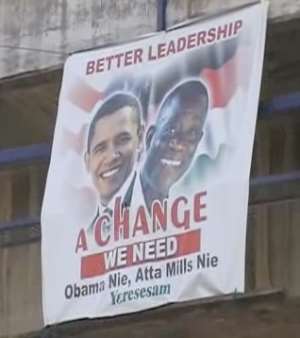 The job numbers are looking good for President Obama. His opponents have switched from accusing him from failed efforts to create job to not good enough unemployment rate (9.9 to 8.3%). Why would President Obama's success translate to Prof. Mill's? I bet Prof Atta Mills will win 2012 Ghana elections IF Obama wins.
History helps answer this question; history favors my assertion. We do not want to walk in the path where history tells us those who walked on that path were doomed. History has explanation for a clue for everything we do; Profession, Religion, Politics, etc. The new name for history in our modern age is [historic] data. The world's economy is driven by a bunch of historical data that are being analyzed. The fact is, whether history or data, we use them both for accurate forecast of things to happen. For example, it is no enchantment for anyone who follows Middle East politics to guess that Israel will soon attack Iran's nuclear facilities soon or later; they did that to Turkey, Syria, etc.
On that note, let us analyzed why history predicts that Prof. Atta Mills will win IF President Obama wins. By kind courtesy of the former dictator, Lt Flt JJ Rawlings, Ghana returned to multiparty system (democracy) in 1992. NDC won the elections just as the Democratic Party, lead by Bill Clinton, won the US elections in the same year. Former President Rawlings, despite staunch opposition, easily retained power for another term; likewise Bill Clinton won amid failed healthcare and social security reform proposals. It is important to say that these Presidents met in Ghana.
NPP decisively took over power in 2000 just as we know that the Republic Party also took over from the Democrats. President Bush, despite facing huge opposition, allegation, increase in national deficit, and allegation that he lied to the UN General Assembly with the infamous Saddam Hussein WMD saga was given a 2nd term; Likewise, former President Kuffuor won despite barrage of attacks of incompetence from the NDC. Again, it is important to remind readers that both Presidents met in Ghana; a gesture that affirms the respect and trust both countries receive from each other.
The trend is no coincidence as writers of rejoinder will want you to believe. In 2008, then Senator Obama run on the idea of change and "yes we can" slogan and won the US election. NDC also run on similar slogan of change and won. Why would I be wrong or bias if, as NPP sympathizer, I freely, confidently, and deductively predict that IF OBAMA wins MILLS will win? Again, let us take note that President Obama has visited Ghana as history confirms.
Unfortunately, no NPP supporter will accept this analysis but every data presented above are facts. I hope that don't get rejoinders on my proven historical records. Of course I can accept history failing, but how do you confirm that it will fail when the facts show it has not failed once? I discussed these facts with a friend who is optimistic about NPP chances of winning the election and he raised the argument that the current Democratic leaders are friends of the NPP's flag bearer rather. He justified his friendship comment with the invitation Nana Akuffo-Addo received to the White House's National Prayer Breakfast meeting held recently as evidence. Do you see why I laugh at some of my fellow NPP supporters, especially those in Houston Chapter? They defend blue color as green! They can't read the numbers. White House invited NPP's flag bearer to National Prayer Breakfast meeting because Prof. Atta Mills doesn't need to learn how to pray. Everyone knows he is a man of prayer and peace. The White House doesn't do things without hidden code? Who declared all die be die? Which party's member, called Karbo, beat the war drum? One way White believes Nana would let go when he loses this year's election is if he were trained to be a man of prayer and God feared, hence the invitation. I know this is contentious but I am convinced after speaking to friends in the security services who can decode government actions, it then began to add up.
On the other hand what am I saying? Nana Addo Danquah Akuffo-Addo can win ONLY IF Mr. Obama loses. It is possible albeit the chances are slim. Thank you for reading. Please email or post only constructive review or comment. Enough with insults! I don't mind that though.
By BB Nkrumah, [email protected]