MiDA CEO: MCA Ghana Program won't be extended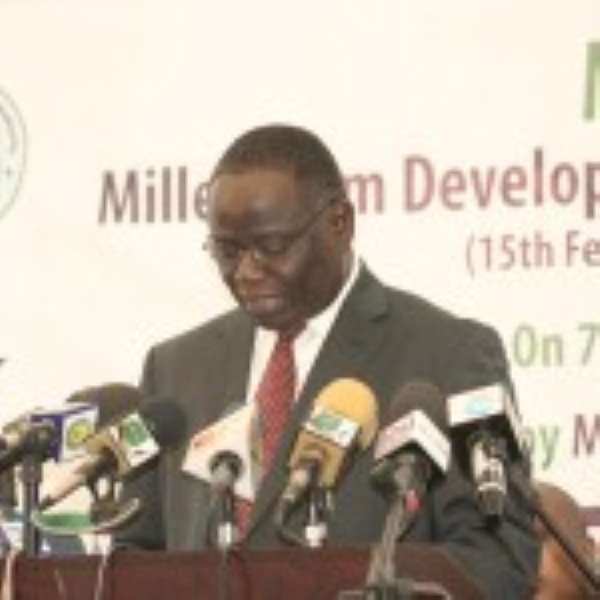 Mr. Martin Eson-Benjamin, CEO-MiDA. Pix by Eric Owiredu
The Five-Year Ghana Programme on the Millennium Challenge Account (MCA), which is expected to be handed over to the Government of Ghana this month, will not be extended.
The $547million programme, the Chief Executive Officer (CEO) of the Millennium Development Authority (MiDA), Mr. Martin Eson-Benjamin added that: 'There is no room for extension' of the program.
Mr. Eson-Benjamin told journalists in Accra yesterday that the United States sponsored MCA program presents a new and innovation business model for the delivery of development assistance, with strict guidelines and emphasis on performance, results and accountability.
He indicated that team at MiDA Ghana acknowledged the enormity of their responsibilities, considering that theirs was seen as the most complex and ambitious of all the MCA Compacts.
According to him, to win the challenge and make the expected impacts, the team turned no blind eye on the numerous challenges that characterize the implementation of the time-bound program.
It has been very tough and difficult, but they have remained focused and forged ahead, determined to uphold the dignity deserving of the selected beneficiaries, he told the journalists.
Mr. Eso-Benjamin announced that the MiDA spent a total of $208.8million on agric project in six key activities, while a total of $218.37million was used on transportation project in three key activities.
To add to these, the Authority also spent $77.72million on rural service development project in three key activities. All these projects, according to the CEO covered the Northern, Afram Basin and Southern zones.
Throwing more light on the transportation project, Mr. Eson-Benjamin stated that the $218.37million transportation project under the program has as its objective to reduce the transportation costs affecting agric commerce at the sub-regional and regional levels in Ghana, in support of the agric project.
Besides the 357km of feeder roads which have been rehabilitated, MCC funds have also been applied to the upgrade of the N1 Highway, construction of trunk roads and provision of ferries, under the broader transportation project, he indicated.
The N1 Highway activity which consumed $173.2million was used for the upgrading of 14.1km of a major urban highway into a 3-lane dual carrier road which extends from Tetteh-Quarshie Interchange to Mallam Junction in Accra.
The program,  which started in 2006, when the MCA, Ghana Compact was signed between the Government of Ghana and the Millennium Challenge Corporation (MCC), representing the United States Government.
The goal of the Compact is to reduce poverty through economic growth in Ghana, led by agricultural transformation. The two-fold objective is therefore to increase the production and productivity of high-value cash and food stable crops, and to enhance the competitiveness of Ghana's high-value cash and food crops in both local and international markets.