Kwabena Adjei summons Atta Mills over sinking NDC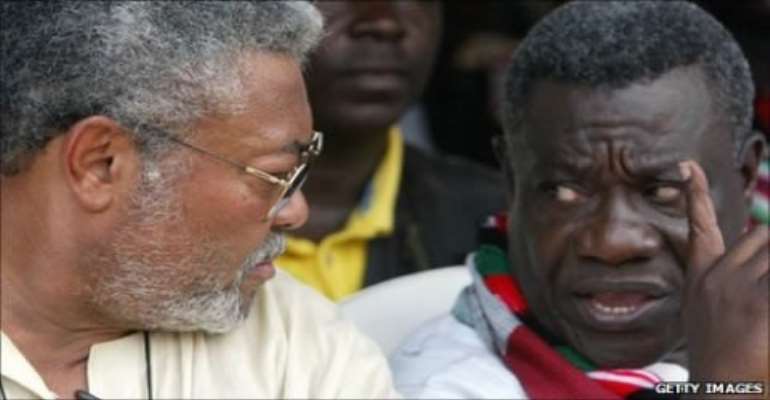 The chairman of the ruling National Democratic Congress (NDC), Dr. Kwabena Adjei, has summoned President John Evans Atta Mills to schedule an emergency meeting within a week to address "urgent disintegrating" issues that could collapse the party ahead of the elections.
Dr. Adjei, who did not mince words in his correspondence, said he has been forced to write directly to the NDC flagbearer and copied to founder JJ Rawlings because he has "reached the limit" of his "patience and tolerance. "
Below is the letter produced in full and a downloadable copy is attached to the headline
VERY URGENT COMMUNICATION
10TH January, 2012
Your Excellency, Mr. President,
Developments within out party, the National Democratic Congress, have become a source of grave concern to me and, I believe to all Ghanaians who love and cherish the Party that you lead.
I therefore demand, with all respect, that you summon a meeting, within a week, in which the following, among others to discuss and resolve very urgent disintegrative factional dynamics and processes within the NDC before it is too late for the 2012
General Elections:
1. Flt. Lt J. J. Rawlings (NDC Founder & Chairman of Council of Elders)
2. H. E. John Mahama (Vice President)
3. Nana Konadu Agyeman Rawlings (Member of NDC Finance Committee)
4. Professor Kofi Awoonor (Chairman of Council of State)
5. Captain Kojo Tsikata
6. Alhaji Idriddu Mahama
7. Alhaji Issifu Ali
8. Mr. J. H. Owusu-Akyeampong
9. Mr. Ato Ahwoi
10. Hon. Kwesi Ahwoi (Minister of Food and Agriculture)
11. Professor Kwamena Ahwoi
12. Mr. Kofi Totobi Quarkyi
13. Mr. P. V. Obeng
14. Mr. Kwame Peprah
15. Dr. Kwabena Adjei (NDC National Chairman)
16. Hon. Johnson Asiedu Nketia (NDC General Secretary)
17. Mr. Yaw Boateng Gyan (NDC National Organiser)
18. Naval Captain K. A. Butah (NDC Chairman of Finance Committee)
19. Mr. Kamal Norshie (NDC National Treasurer)
20. Madam Victoria Addy (NDC Member of Council of Elders)
21. Mr. Ohene Kena
22. All NDC Regional Chiarmen.
In the supreme interest of the party I have, for the past three years, sincerely, patiently and silently taken the position of a unifying middle liner between those who are perceived as major factions in the party by many concerned and discerning Ghanaians.
I have threaded this leadership path cautiously, hoping to keep the party united and stable in my strong belief that it can provide an impregnable political fortress in which all members would have some unencumbered political space to realize their social-economic aspirations.
However, most party members do not think and feel that they have so far had that political space for which they dedicate their times, energies and resources during the 2008 electioneering campaign.
Indeed, my impression is that most of our party members do not even feel that they belong to a party they aggressively defend.
As a person who, without resources, contributed greatly to our electoral victory all I have deserved are abuse, character assassination, blocking of my efforts and physical threats to my person.
In all honesty, I cannot personally hide the fact that I have reached the limit of my patience and tolerance.
Indeed I can no longer put up with the on-going and well-known divisive machinations and schemes that threaten to wreck the party's very survival and my person as the popular elected Chairman.
Mr. President, I do hope that you understand, as much as I do, the seriousness of the threat to our great party if I am forced to go public to cleanse my assassinated character hatched within the party, more importantly take the needed steps to straighten up the party itself.
Sir, I am copying this letter to the NDC Founder, Flt Lt. J. J. Rawlings, in my strong conviction that so long as he lives and commands continued grassroots support, his relevance in our party affairs can neither be questioned nor treated with contempt.
Thank You Sir,
Yours in the service of NDC and Mother Ghana,
Signed,
Hon. Dr. Kwabena Adjei
Copy: H. E. J. J Rawlings
NDC Founder, Accra