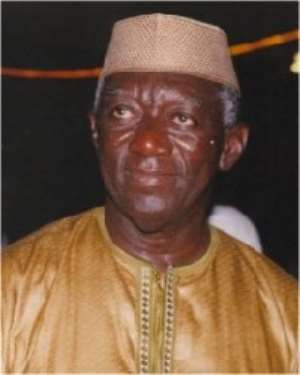 Accra, Feb.7,GNA-Former President John Agyekum Kufuor left Accra on Monday night for a one-week visit to the United Kingdom (UK), to address a high level forum on the linkage between agriculture, nutrition and education.
The Forum aimed to stimulate discussions on current innovations to improve food security and the need to link agriculture, nutrition and education interventions to benefit farmers and school children.
A press release signed by Frank Agyekum, Spokesperson for Former President Kufuor and copied to the Ghana News Agency, said the forum was hosted jointly by the UK All-Party Parliamentary Group on Agriculture and Food for Development, the Partnership for Child Development and the Imperial College.
It said the event at the UK Parliament will be on theme: "Linking local agriculture, nutrition and education: Innovations to improve food security.
The statement said Former President Kufuor would outline the benefits of school feeding programmes to impoverished communities and the nation at large.
It said speakers will include ; Professor Sir Gordon Conway of the UK Centre for Environmental Policy, Professor Don Bundy, Lead Health Specialist at the World Bank; Dr. Boitshepo Giyose, Food and Nutrition Advisor of the New Economic Partnership for African Development (NEPAD) and Mr Andrew Mitchell, Member of Parliament (MP), UK Secretary of State for International Development.
The statement noted that while in the UK, Former President Kufuor will hold bilateral talks with Mr Andrew Mitchell, Mr Tony Cunningham, Shadow International Development Minister, Members of the International Development Select Committee including the Chair Malcolm Bruce, George Osborne, Chancellor and Prof. Keith O'Nions, Rector of Imperial College, London, among others.
Former President Kufuor is expected back on 12th February, 2012.
GNA