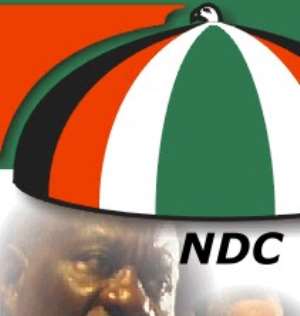 Information gathered indicates that the ruling national democratic congress (N.D.C) in the Ho West Constituency of the Volta region is highly losing it's membership to the New patriotic Party in Ho west constituency.
Over 872 eight hundred and seventy – two youths have defected from the national democratic congress to the new patriotic party on Wednesday, 1st February,2012 at around 11:22am openly declared their support for N.P.P parliamentary candidate, lawyer Ernest Gaewu and Nana Akofu Addo.
Most of the youth gave numerous reasons for their defection from the national democratic congress (N.D.C) was as a result of the unfulfilled promises He the Ho west MP, Hon Emmanuel Kwasi Bedzrah made to us the youth which convinced us to vote for Him and the N.D.C to come to power, the division He is bringing to our towns and villages and he not respecting our traditions, our elders and our traditional rulers.
One Fo yaw said,"I was politically blind to have joined the N.D.C and have regretted what I did during the 2008 election for this Party"
Mr. Parvenu believe said," the NDC should not be surprise for the youth has decided this time and that is final and should be ready for more defection, this is just the beginning. We went for acclamation it was only some selected people that was given rlg mobile phones with (GHC 20.00) twenty Ghana Cedis, another group took home brand new motor bikes. We all worked equally to bring the NDC to power but what do we see only some people dey chop. This 2012 we will not be soo foolish as before, what does they take us for, when they are giving rlg phones, monies and motor bikes to others, cooked rice with cow meat was our portion, how?
Infact what we need from any government is self development, better education, employment he angrily added.