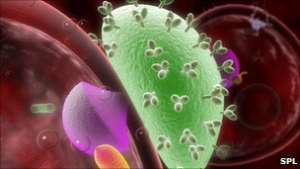 (CNS): The clinical course and opportunistic infections of HIV vary from patient to patient and country to country. In India TB is a major opportunistic infection in people living with HIV (PLHIV), with over 35% PLHIV co-infected with TB-HIV. There is an estimated 3.52% faster progression to death if a PLHIV suffers from TB also. Even today in India, two deaths occur every three minutes from TB. Major challenges to control TB in India include poor primary health-care infrastructure especially in rural areas; unregulated private health care leading to widespread irrational use of first-line and second-line anti-TB drugs, poverty, social stigma and lack of political will.
Current national TB treatment guidelines recommend that irrespective of HIV status of the patient, TB requires a minimum of 6 months of treatment with 4 drugs: Isoniazid (INH), Rifampicin (RIF), Ethambutol (EMB) and Pyrazinamide (PYZ) for 2 months followed by INH and RIF for 4 months, given either daily or intermittently.
The YRG Centre for AIDS Research and Education (YRG CARE), Chennai, with partners, had recently organized the Chennai ART Symposium (CART 2012), and The International Science Symposium on HIV and Infectious Diseases, to deliberate upon a wide range of aspects related to HIV infection and provide latest clinical updates on the management of the disease and its opportunistic infections like tuberculosis.
According to Dr Manoharan, Medical Director, International Training and Education Centre on HIV/AIDS, "According to the national data of 2009, death rate is 15% in HIV positive patients with TB, and in other TB patients it is 4%. When we talk of anti TB treatment we have to cure TB, prevent relapse, and prevent drug-resistant TB. The main four issues we have to tackle while managing TB in HIV patients are: when should one start antiretroviral therapy (ART) in HIV associated TB, what should be the duration of treatment, should it be daily or intermittent therapy, and what should be done in case of relapse of infection?"

"Starting early on ART in HIV-TB co-infected patients reduces mortality significantly, although there may be problems like drug toxicity, and drug interactions between ART and anti-TB drugs. Based on latest studies, which show that early therapy is much better than late therapy, the national guidelines of our country recommend start of ART 15 days after initiating anti-TB drugs (or when patient is stabilized on anti-TB treatment). Although both 6 months and 9 months treatments give the same results as far as mortality/death rate is concerned, but relapse/recurrence rate is much lower in the 9 months regimen. In one study in US relapse rates were four times higher in 6 months regimen, other outcomes remaining same. So the current recommendation is standard treatment therapy regimen extended to 9 months. However, our national guidelines recommend 6 months treatment for pulmonary TB in HIV patients. Again, the daily dose regimen has been found to be better than the intermittent thrice a week therapy, in preventing relapse. But national guidelines still follow the intermittent therapy regimen."
Dr Manoharan is quick to add that, "As a program person and as a doctor treating a particular patient, my approach may be different. If we recommend/ advise something and if it is not being implemented properly in the field, then it will be a failure. As of today we do not have many randomized control studies addressing the HIV-TB issues. There is a study going on at TB Research Centre Chennai about daily versus intermittent therapy and so let us wait for the results. But if the individual patient is adhering to the drugs - TB and ART - then daily therapy is highly recommended, but as a program person I will follow our national guidelines of intermittent therapy. So if we give the thrice a week regimen with more attention on nutrition, drug adherence, treatment compliance and healthy living etc, I think we can achieve a very good result. Let us see the randomized controlled trial results and then take a decision on that. As of today if you look at the National TB Control Program, I think the failure rate in PLHIVs is comparable to HIV negative patients, if we follow the thrice a week intermittent regimen. But the only problem is of relapse. So Central TB Division [Government of India] is looking into this, and unless we have the definite data we cannot take a decision."
Dr Manoharan also believes that, "The refampicin based therapy is far better (whether long or short duration) than non refampicin based therapy. Refampicin is very important to get a good outcome. After successful completion of treatment, relapse rates in India are 15%. 80% of recurrences in HIV positive people are because of re-infection and 90% of recurrences in HIV negative are because of re-activation. So extending treatment of isoniazid and refampicin upto 12 months decreases the recurrence rate to 1.9%. Post treatment isoniazid for one year decreases recurrence and plays a beneficial role in preventing relapse. Cotrimoxazole propalaxsis, along with ART is beneficial in HIV-TB co-infection even when CD4 count is as high as 300 or 400. Sometimes steroids are given along with anti-TB and ART drugs. Steroids do not help or reduce recurrence in pulmonary TB but may help in TB meningitis."
According to Dr Atmaram Bandivdekar, Scientist at the National Institute for Research in Reproductive Health, Mumbai, "As HIV reduces immunity of the body, many may acquire TB. To combat this problem drug adherence is very important. Also, sometimes the drug may stop responding due to virus mutations. Then one has to go for second line therapy. Multiple sex partners increase the risk of exposure to multiple viruses, as in case of sex workers. There should also be some control over the treatment available in the private sector."
Dr Ramesh Paranjape, Director, National AIDS Research Institute, India Council of Medical Research, Pune, also agrees that: "TB/HIV co infection is a real major problem in our country. About 50% to 60% HIV patients come down with active TB. Diagnosis as well as treatment of TB is more difficult in HIV infected people, than in other TB patients. We at the National AIDS Research Institute, Pune, were the first ones to raise a red flag about HIV/TB co-infection. We published a paper in 1996 where we showed that in Pune alone, amongst the newly diagnosed TB patients HIV prevalence went up from 3% to about 20%, and until recently it was about 30%. This means that for these 30% patients their TB infection flared up and activated into TB because of HIV. So this is the mini epidemic added to the TB epidemic which already exists. We also felt that all newly diagnosed TB patients must be brought under the umbrella for HIV screening. And I am happy to say that this process has begun in our national AIDS program. Patients diagnosed with TB are being referred to Integrated Counselling and Testing Centres (ICTCs), and HIV patients at ICTCs with clinical symptoms for TB are getting referred for TB treatment. But this process needs to be strengthened. As of now there are a lot of gaps in implementing these policies. The problem is making the facilities available at the same place. If after testing for TB I have to go 20 km to reach HIV testing centre, it will be a problem. This integration at logistic level needs to be strengthened. There are a number of other challenges too—limitations of drugs that can be used—nevirapine reacts with rifampicin. So we are unable to use nevirapine in TB patients. Also, TB and HIV lead to more viral diversity. We do not know how it will impact the drug resistance situation. I would say that TB is a problem but not an insurmountable one."
It may make more sense to incorporate a daily drug regimen in the Revised National TB Control Programme (RNTCP) in India, even from drug compliance point of view, as it is always easier to remember taking a pill everyday rather than on alternate days. This, along with a 9 months regimen for anti-TB treatment, will further shield better from relapses as well. The HIV virus and the TB bacteria are very good friends, and so TB and HIV programmes also will have to be friends and work hand in hand to prevent unnecessary deaths. (CNS)
Shobha Shukla - CNS
(The author is the Managing Editor of Citizen News Service (CNS). She is a J2J Fellow of National Press Foundation (NPF) USA. She has worked earlier with State Planning Institute, UP and taught physics at India's prestigious Loreto Convent. She also co-authored a book (translated in three languages) "Voices from the field on childhood pneumonia" and a report on Hepatitis C and HIV treatment access issues in 2011. Email: [email protected], website: http://www.citizen-news.org)