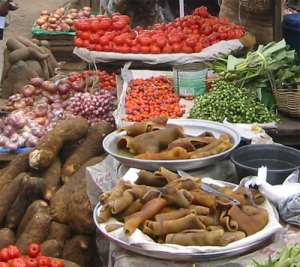 Bolgatanga (UE), Jan. 3, GNA – Prices of foodstuffs in the Bolgatanga market have increased barely two months after harvest, when many households are expected to have stocks of farm produce .
In a market survey conducted by the Ghana News Agency in Bolgatanga, market women expressed fear that prices of foodstuff would increase further by April/ May because agriculture produce was low.
A maxi bag of maize that was sold at 50 Ghana Cedis last year, currently sells at 80 Ghana Cedis at the Bolgatanga market, whilst the accepted measuring bowl of maize sells at 2.00 Cedis as compared to One cedi forty pesewas last year.
The price for late millet, on Thursday was 82.00 Ghana Cedis per bag while a bowl of the cereal was sold at 2.20 Ghana Cedis as compared to 60.00 Ghana Cedis and one cedi, sixty pesewas respectively in 2011.
Local rice, which sold at 3.50 Ghana Cedis in 2011 per bowl, currently, sells at 4.50 Ghana Cedis.
Some market women said the One cedi increase was rather on the high side and attributed it to the low production of rice in the North this year.
Soya beans cost 2.80 Ghana Cedis per bowl while black-eyed beans, which sold at 3.50 Ghana cedis last year, as at yesterday, sold at 4.50 Ghana Cedis per bowl.
Guinea fowl, which sold at an average price of 10.00 Ghana Cedis last year, increased to between 130.00 Ghana Cedis and 150.00 Ghana Cedis, this year.
GNA