CHEERFUL HEARTS FOUNDATION / VODAFONE GHANA FOUNDATION READING PROJECT AWARD CEREMONY AT AWUTU BREKU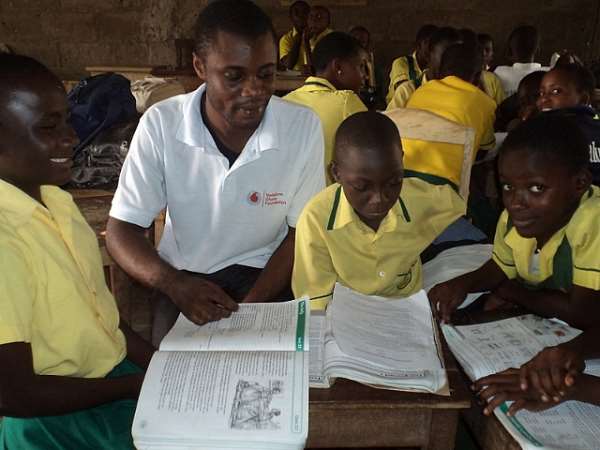 On the 27th January, 2012, Cheerful Hearts Foundation organised an award ceremony in honour of Ten (10) students (6 females, 4 males) who became successful in an essay competition as part of their ongoing reading project titled ''Reading Clinic for Rural School Project''.
The project which is partly sponsored by Vodafone Ghana Foundation through the Vodafone World of Difference programme is being coordinated by Mr. Fiifi Oduro Nyarkoh who is being paid and is currently volunteering with Cheerful Hearts Foundation under the Vodafone World of Difference programme (WoD).
World of Difference (WoD) is a programme that allows individuals in the Ghanaian society to be paid to work for a charity of their choice. Professionals are allowed to undertake a charitable cause they have chosen, in partnership with an existing NGO. The Vodafone Ghana Foundation pays them allowances up to two months in order to undertake their individually chosen projects.
The Award Ceremony chaired by Mr. Ebenezer Botwe, PRO of the Ghana Education Service, Awutu Senya District was held at the Adventist Preparatory School, Awutu Breku from 11:00am till 12:30pm. The programme was attended by 328pupils, 15teachers from the various schools and 5other invited guests.
The chairman in his opening statement said that, the academic performance of pupils in the district needs much to be desired due to the number of factors which include weak language base of the children. Studies indicate that, building a strong language base amongst school children is a key in improving academic performance. Therefore the Directorate has developed strategies to develop the reading and writing skills of basic school pupils. We appreciate the efforts of NGOs like Cheerful Hearts Foundation and Vodafone Ghana Foundation in promoting the interest of basic school children through the ''Reading Clinic for Rural Schools Project''. The award ceremony which we are witnessing today even serves as a motivating factor for improved academic performance in schools and we are grateful to the organizers for the bold decision. The Directorate appeals to stakeholders to help construct an ultra-modern public library facility in Awutu Breku which will serve the Awutu community and its environs to help improve learning in the basic and second cycle schools.
The Executive Director of Cheerful Hearts Foundation, Mr. Eric Opoku Agyemang in his report stated that, the reading project which still at its beginning stage selected three schools from the Awutu Breku community to access the impact and importance of reading to the schools in the community. The schools selected were St. Kilian Catholic, Adventist Preparatory and St. Joseph Golden Academy School. Cheerful Hearts Foundation prior to this project conducted a research on the benefits on reading and found that that about 90% of pupils in the Awutu Community who show interest in reading has the potential of becoming good students whilst 85% of students who are lazy in reading turn out to be poor student in most of the subjects in schools. He added that, children who develop good reading habits do not only have the opportunity to improve their vocabulary, grammar and writing skills but also become naturally curious about learning and gaining information to catch up with the current Global village. Hence the foundation saw the need to implement this reading project first in the Awutu Senya District whilst the foundation keeps spreading the message to other parts of Ghana.
The goal of this project is to sensitize all rural schools on the benefits of good reading habits through the development of reading fundamentals amongst children in rural schools and creating platform for children to gain access to reading facilities to help improve learning in the rural communities of Ghana. Since the beginning of this project in late November 2011, the foundation works through their project coordinator, Mr. Fiifi Oduro Nyarko in collaboration with the English teachers of the selected school to help pupils to focus on certain basic reading necessities to help create reading interest in children. Some activities included; helping pupils to identify punctuation marks and how it's being used sentences or passages, identifying keywords in passages and how to find it meaning in dictionaries, learning lessons from passages read and many more.
As part of the evaluation for the first phase of this project, the foundation organised an essay competition for the 3 selected schools as well as inviting 3 other schools to participate in the essay competition. The three other schools were Zion, Awutu D/A and Your Faith International School, Awutu Breku. The title of the essay was ''The Story of My Dreams'' and pupils were expected to write about themselves, what they hope to be in future, who are their role models and what inspires them to be good persons in future and also how they can use their dreams to contribute to the development of their community.
Out of the 219 entries expected from the competition, only 117 entries were received. Out of the 117 received, 85 were received from the project participating schools out of a total of 105 whilst 32 received from the other invited schools that were not on this project out of 114. In summary, there was a percentage of 81% turn out from the beneficiary schools whilst 28% of the total number of the other participating schools turned out. This gives a clear indication of how much awareness and impact of reading has been made over the past two months within the beneficiary schools on this project.
The foundation during this project also realized that most of the schools lack basic reading books and will therefore collaborate with stakeholders to help get reading materials for the schools as well as construct a community library to help children to get access to reading and research facilities to enhance learning.
He finally congratulated teachers for their efforts and encouraged them to assist in helping create the interest of reading in their pupils to help improve better academic performance within the Awutu Senya District and other parts of Ghana.
Awards were then presented to a total of 10candidates within two categories thus 5 pupils each from the primary (category 1) and junior high (category 2) respectively. Below shows the categories, position placed and awards received.
| | | | |
| --- | --- | --- | --- |
| NAME OF PUPIL | CATEGORY | POSITION PLACED | AWARD RECEIVED |
| John Emmanuel Ayarmah | 1 | 1st | GHC200 worth scholarship, Dictionary, two story books and a certificate |
| Dinah Armah | 1 | 2nd | GHC150 worth scholarship, Dictionary, two story books and a certificate |
| Philip Larbie | 1 | 3rd | GHC100 worth scholarship, Dictionary, two story books and a certificate |
| Rita Opei | 1 | 4th | GHC100 worth scholarship, Dictionary, two story books and a certificate |
| Emmanuel Asuku | 1 | 5th | GHC100 worth scholarship, Dictionary, two story books and a certificate |
| Priscilla Tandoh | 2 | 1st | GHC200 worth scholarship, Dictionary, two story books and a certificate |
| Wilhelmina Aidoo | 2 | 2nd | GHC150 worth scholarship, Dictionary, two story books and a certificate |
| Rosina Obeng Darko | 2 | 3rd | GHC100 worth scholarship, Dictionary, two story books and a certificate |
| Haizel Emmanuel | 2 | 4th | GHC100 worth scholarship, Dictionary, two story books and a certificate |
| Linda Reynolds | 2 | 5th | GHC100 worth scholarship, Dictionary, two story books and a certificate |
The foundation however, created a bank account in the names above with their cash awards with the local community rural bank, Ewutu Emasa Rural Bank, and encouraged all present officials to once a while donate to these accounts to help the above children to realize their dreams stated in their essays. The pupils and their parent would be signatories of this account to ensure proper use of funds towards the child's education.
Several wonderful comments were received from especially the heads of the various schools present including the invited guests.
Quote from Mr. S.W Ackom (headmaster, Adventist Preparatory School, Awutu Breku) ''I have lived in Awutu Breku for 49years and this is the first time such a programme has been held here and I look forward to seeing more of this programme in the Awutu Community so that children in this community can also climb to the ladder. I thank Cheerful Hearts Foundation and Vodafone Ghana Foundation for this initiative''.
Dr. Samuel Acquah, lecturer of Ghana Medical School, Legon also encouraged all students present to take their reading and research work seriously to enable them to reach a position higher than he has attained. He used himself as a role model for these children as he told them about some of his successes in life as a result of his reading interest though he started schooling in a rural area just as the Awutu Breku.
The Chairman in his closing remarks congratulated the pupils who received the awards for their hard work and use that opportunity to encourage all other pupils present to take their reading in all subjects seriously to help them achieve their purpose in education. He also requested that copies of the project findings or report on this project should be given to the District Directorate of Education so that all necessary actions can be carried from their end as well. He said the programme is highly appreciative and appealed to the Cheerful Hearts Foundation to help extend this project to the other eight (8) remaining circuits within the Awutu Senya District to help improve learning for all children in the District.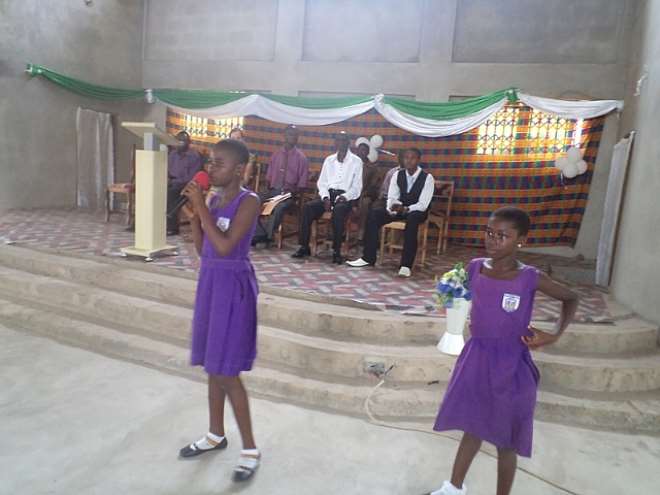 A FEMALE PUPIL RECITING A POEM ON WHAT SHE HOPE TO ACHIEVE AND HOW SHE CAN SUPPORT THE DEVELOPMENT OF HER COMMUNITY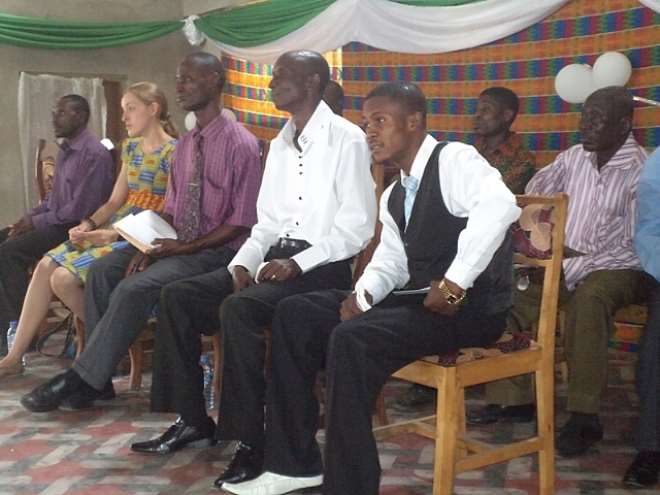 A SECTION OF THE INVITED GUEST PRESENT AT THE AWARD CEREMONY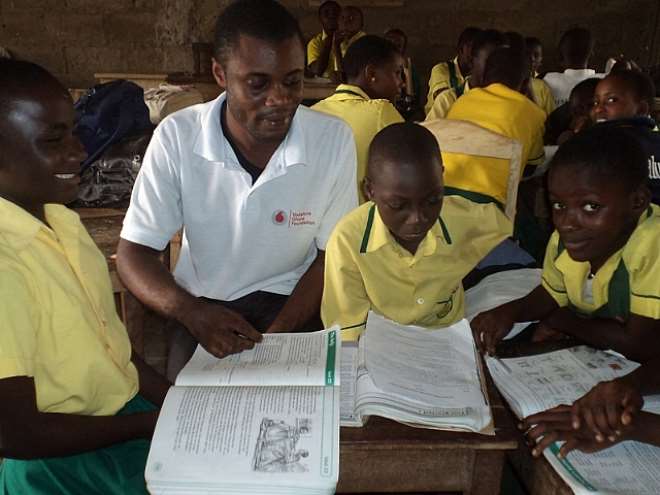 COORDINATOR ASSISTING PUPILS WITH BASIC READING FUNDAMENTALS IN A A GROUP ACTIVITY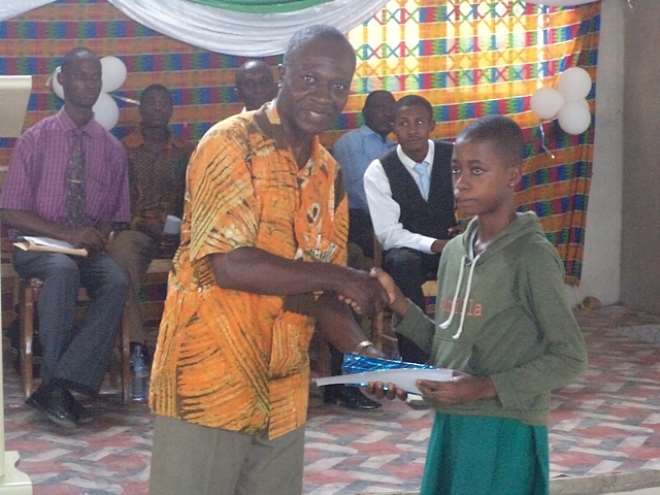 DR. SAMUEL ACQUAH PRESENTING AWARD TO ONE OF THE PUPILS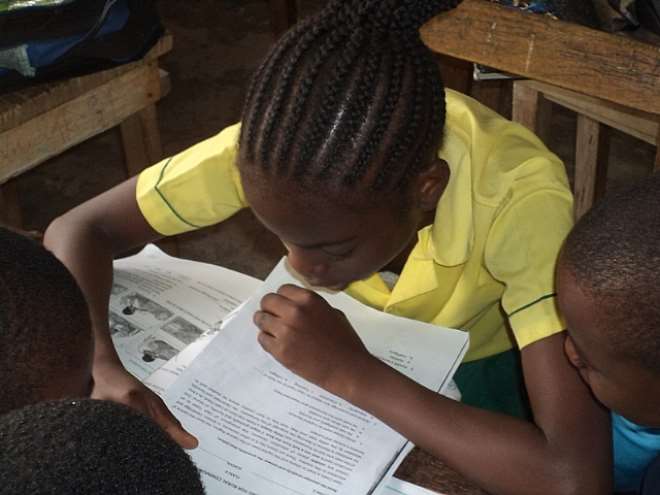 DSC06861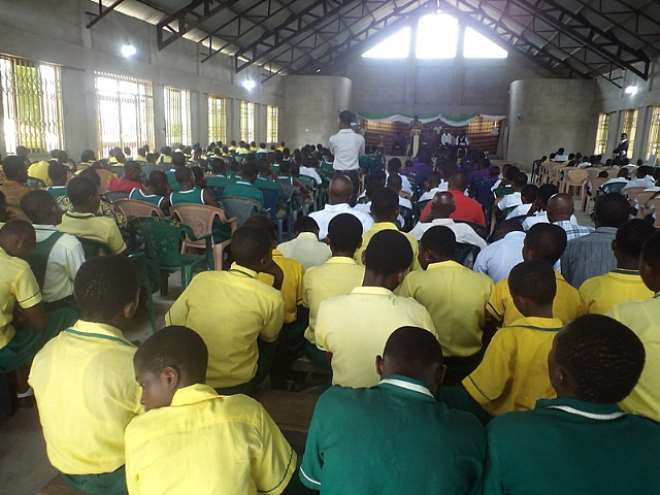 DSC06990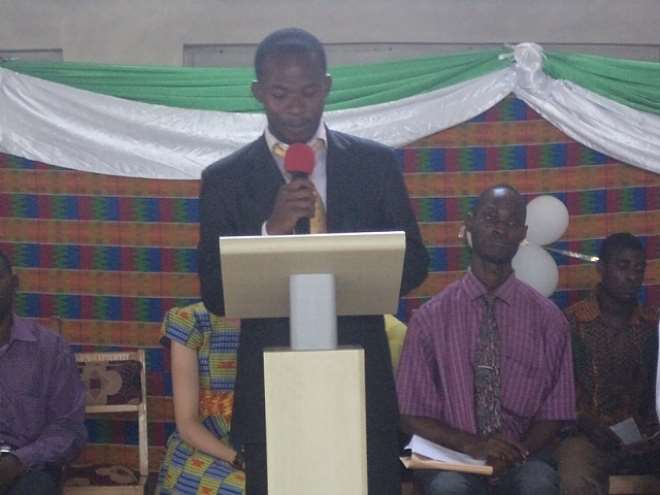 ERIC OPOKU AGYEMANG, EXECUTIVE DIRECTOR OF CHEERFUL HEARTS FOUNDATION DELIVERING HIS PROJECT REPORT 2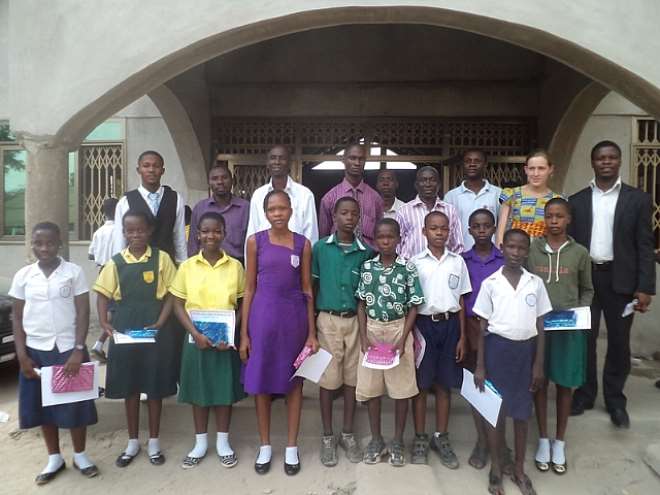 PUPILS WHO RECEIVED THE ESSAY AWARDS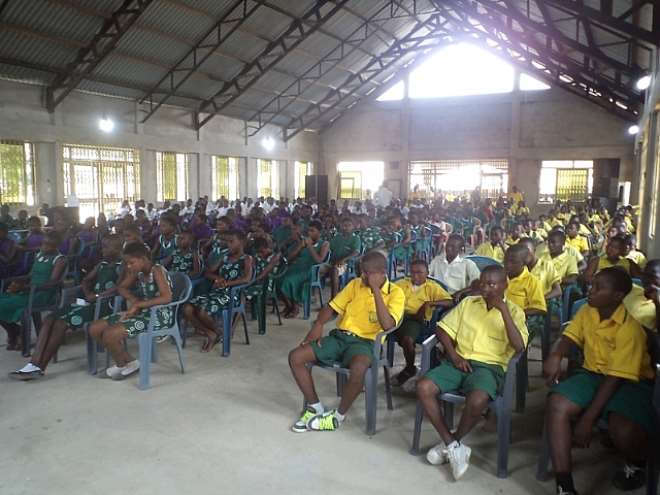 SECTION OF THE PUPILS PRESENT AT THE AWARD CEREMONY 2