Sudan closer to war than peace with south: Bashir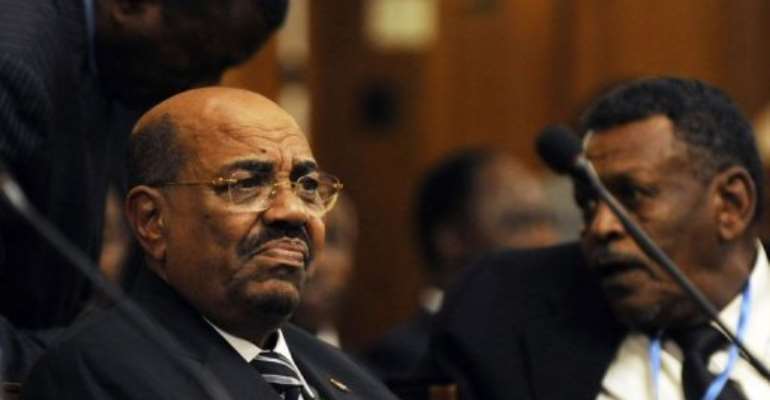 KHARTOUM, SUDAN (AFP) - Sudan is closer to war than peace with the breakaway state of South Sudan, President Omar al-Bashir said on national television on Friday.
"The climate now is closer to a climate of war than one of peace," Bashir said.
He spoke after South Sudanese President Salva Kiir warned on Thursday that renewed conflict could erupt if bitter oil negotiations with Khartoum do not include a deal on other key issues, including the contested Abyei region.
Tensions have also been raised by the still undemarcated border, parts of which cut through oilfields, as well as mutual allegations that each side backs rebel forces against the other.
But Bashir said Sudan will not go to war "unless it is imposed on us."
South Sudan separated last July after an overwhelming vote that followed two decades of civil war which killed two million.
The crisis between the neighbours has become a major threat to regional peace and security, United Nations chief Ban Ki-moon has said.
Juba announced last Sunday it had nearly completed a protest shutdown of its oil production after talks in the Ethiopian capital Addis Ababa failed again to resolve a disagreement with Sudan over oil fees.
Khartoum admits to confiscating 1.7 million barrels of South Sudanese crude since vowing in November to take 23 percent of southern oil exports as payment in kind during the fee dispute.
The South calls this "theft."
"We will continue taking our rights in kind until we reach agreement," Bashir said.
When South Sudan separated, it took with it three-quarters of the country's total oil production of 470,000 barrels per day.
But landlocked and grossly underdeveloped South Sudan can only ship its oil through the north, leaving the two countries disputing how much Juba should pay for pumping its crude through the pipeline and Red Sea marine terminal.
The South depends on oil for more than 90 percent of its revenues, while Khartoum's finance minister said late last year that the loss of oil from the South left a budget shortfall of 30 percent.
Since then, Sudan has witnessed spiralling inflation -- which the government sees reaching 17 percent this year -- and the sharp devaluation of the Sudanese pound.
At the same time, crippling debts of almost $40 billion and US economic sanctions, which have banned virtually all trade with Sudan since 1997, choke its access to external financing.
In South Kordofan and Blue Nile States, along the contested border with South Sudan, the regime has for several months been fighting ethnic minority insurgents who fought alongside the former rebels now ruling in Juba.